2018 In Review
We take a look back at the workspaces that shaped our 2018 and look forward to what we have in store for 2019! We've been pretty quiet on the blog front lately, as we've been working hard on some interesting and exciting projects. Take a look at some of our favourite projects here.
Arq Group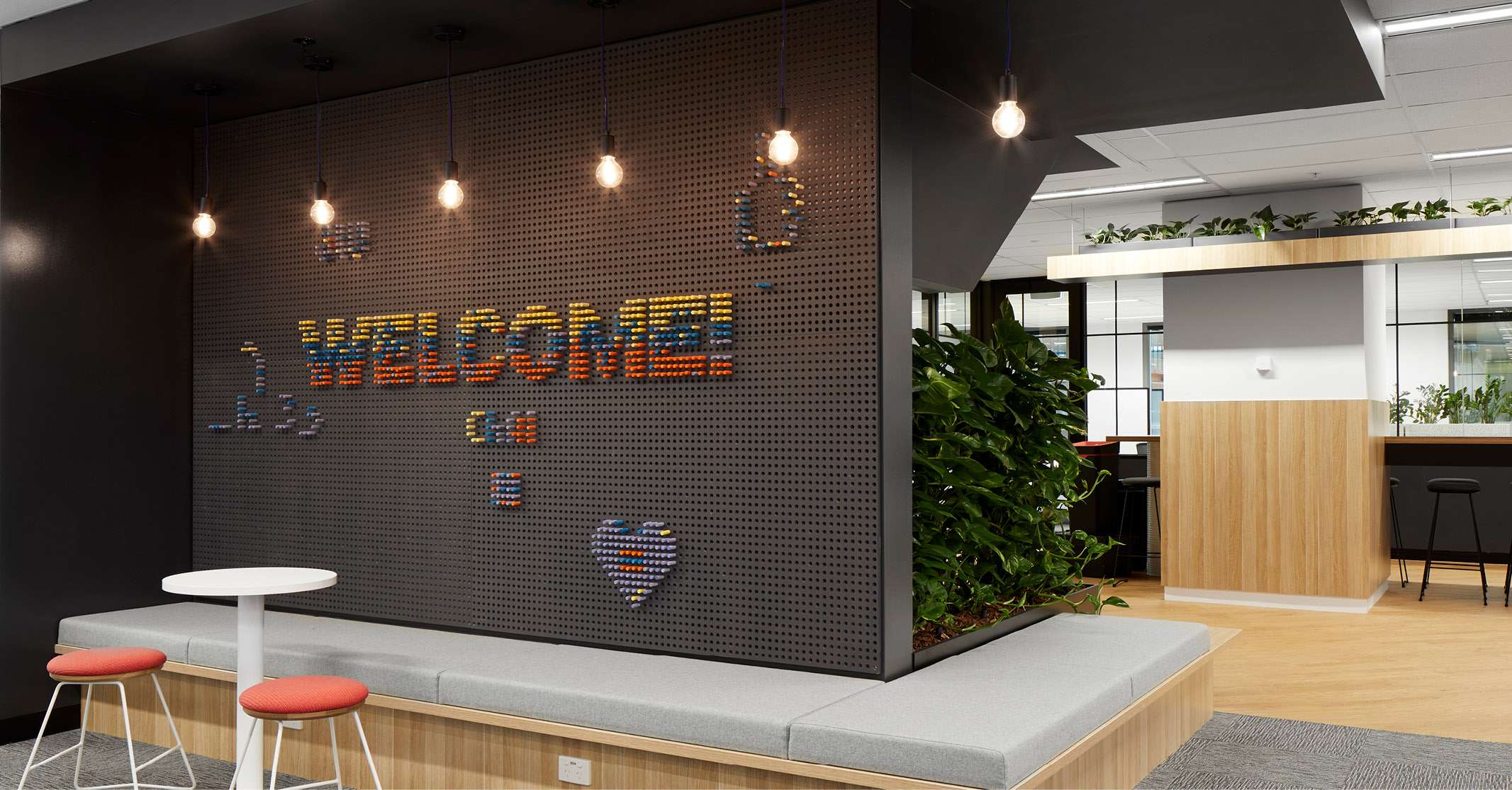 Founded in 1996 at the University of Melbourne, Arq Group (previously Melbourne IT) began as a domains and hosting service. Since then it has developed into a consultancy covering digital marketing, web design, security, mobile, analytics and cloud-based solutions. To further reposition itself as a 'complete, strategic digital partner' Arq Group has undergone a complete rebrand, cementing its position as a true digital partner.
Arq Group – which is growing by a quarter each year – needed workspaces in Sydney, Melbourne and now Brisbane, adaptable to their expansion. The company has been on an acquisition spree in recent years adding to this growth, so it was important to reflect these changes, with a number of additional services going beyond simple domain name hosting.
We understood the cultural and brand transformation Arq Group was going through and were excited to collaborate on a project to positively impact all employees through a new working, collaborative environment.
Amicus has been working with Design Partner Hot Black to translate this foundation into a practical direction for the strategy and design of the work environment into not only the recently completed Sydney and Melbourne projects but also all future locations.
Arq Group wanted spaces that helped people to connect with each other, that brought information to life and that promoted their people's sense of wellbeing and belonging. Through an in-depth study with our Workplace Strategy Team, we co-created a set of 10 design principles which guided the development of the office space. Those principles included; taking the "One Arq Group" approach to design across all offices promoting movement and openness with diverse work settings and inserting home-like features into the design.
"Together we have created a workspace transformation - Amicus were an integral partner. Thank you for helping us unleash our possibilities."

Amy Rixon - Chief Brand, People & Culture Officer - Arq Group
Amicus and Arq Group continue to work together into 2019 with things ramping up with their Brisbane workplace transformation.
Dimension Data

The Dimension Data Sydney Head office had been in a heritage building in the Rocks for over 19 years when Pete Murray, Regional Director realised it was time to embark on a journey to change their culture and to become more collaborative, supported by state-of-the-art technology with a focus on 'mobility and cloud' first. Concurrently Dimension Data decided to relocate their 6,000 sqm to Darling Park. The new tenancy boasted over 4 floors, a large central atrium with stairs and dedicated lifts. Amicus were engaged to deliver an end to end workplace strategy and fitout solution with partners Aston & PTID.
The new facility is now fully agile with multiple workplace options that facilitate collaboration. Equally critical to the cultural impact of physical design are the supporting IT technologies. The new space welcomes employees and visitors with an executive reception area and partner floor complete with large social kitchen and multiple meeting and training room styles. There is one large kitchen and balcony area for staff to share during meal and celebrations, revolutionising the connection and collaboration between business units.
"Before commencing design, considerable time was spent to develop a vision with leadership and staff engagement at the forefront. This process put people at the heart of the relocation journey. We're delighted with the way the new space unlocks greater agility for the team and access to a whole new way of working collaboratively, supported by state-of-the-art technology systems,"

James Kemp - Amicus Co-Founder & CEO
The new design has seen a space saving of 14.3% for Dimension Data while providing 25.2% more workspaces and increasing capacity by 43.9%.
According to Dimension Data the combination of these factors has resulted in savings of $1.04 million per annum.
Amicus are currently working with Dimension Data on both their Melbourne and Brisbane projects due for completion mid 2019. Watch this space!
The Australian Road Research Board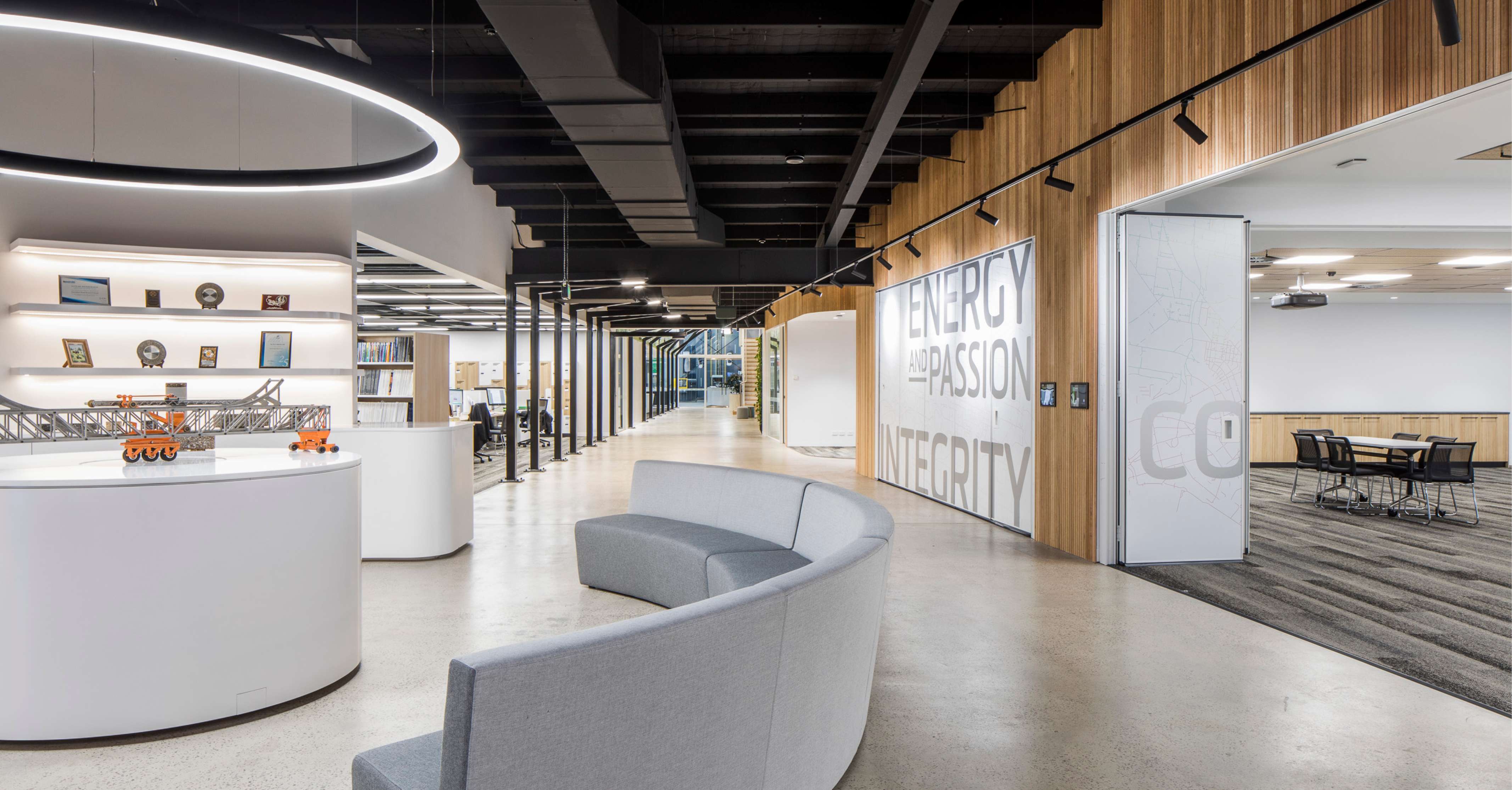 The Australian Road Research Board (ARRB) is the source of independent expert transport knowledge, advising key decision makers on our nation's most important challenges. In 2017, ARRB moved boldly into the future with a new vision and mission leading the way. This mission is about creating knowledge for tomorrow's transport challenges, and solutions for today. ARRB wanted to define their own strategies and create their own standards across their industry.
We understood the importance of this partnership with ARRB, to not only support the ongoing cultural and brand change process, but also to design and build an environment that will help to strengthen their position as industry leaders, creating a space that will foster innovation and provide a workplace that will attract and retain the best talent.
Given the complex nature of the project, with large client/partner facing areas, flexible office space, laboratories, warehouse and outdoor areas, plus a focus on change management throughout the entire process, we were well placed with our offering to add real value to this project.
The environment has been designed to be dually functional, effectively utilising the space to its best advantage. The impact of efficient service and space optimisation has already been huge with teams previously not interacting, now working cohesively and collaboratively.
The integration of technology into the workspace is significant. The workspace is designed to be fully wireless and cloud-based with the system capable of understanding the individual preferences of employees. From knowing where you can park, where you might sit, to where you meet, the system is fully integrated - your mobile is your credential. This technology is unique and has extended to the exterior of the building with the use of car parking solutions and EV (electronic vehicle) charging bays. The system has the ability to understanding where and how people work, measuring interactivity of departments and how space is being used. This research enables further enhancements to the workspace design and functionality.
"Our aim is to build towards a connected mobility future for all Australians, and this new facility will allow us to provide enhanced, cutting-edge research to governments, road agencies and academia on all aspects of roads and transport,"

Michael Caltabiano - ARRB CEO