Modern Interior Design is about Innovation & Easy Style
Today offices have literally "broken up" the traditional office model. The days when places of work were characteristically cubicle with staff enclosed in banal white walls and white fluorescent lights, has had its day. Graphical wallpapers have replaced crisp white walls. Modern interior design for offices has changed dramatically. Ergonomic appeal is the call of the day. Thanks to large successful corporations who fashioned their offices on the premise that "creative work environments energise minds and stirs innovation," interior office design has revolutionised like never before!
A complete refurbishment of the office layout is key to the steps forward for universities and companies who want to keep their employees happy. The concept of the modern office is to create "progressive work settings along with individual work style." For example, one employee might labour while standing; another may require a sitting arrangement.Many modern work solutions, or the most current term used, "work neighbourhoods," supply the flexible, high performance pieces that suit individual and group surroundings in one common office structure.
Modernisation Exemplar
Modern interior designs for offices have taken on a plethora of materials, colours, and ambiances to stimulate the work mood of staff and generate the feeling of productivity and positivism. Interiors can be inexpensive and still radiate innovation and creativity.
Various combinations and facets selected are modern colours like purple, black, grey, or neutral. Many neutrals are enhanced with bright hues of tangy orange, sunshine yellow, luminous greens, bon-bon pinks, and stark reds. White spaces are filled with rich coloured textures of wood, bricks, and stainless steel. Carpets are patterned with stripes, squares, gauche geometric configurations, all splashed with colour and textures.
Exposed ceilings are supported by concrete columns with twirling HVLS fans that cool the air. Enlarged floor to ceiling windows aggrandise spaces with ocean front views, while bright laminate wear resistant materials spruce up floors. Office furniture is placed in the haze of bedecked walls garnished with crafted art pieces and huge photographs. Wall paintings and murals are currently all the rage, exceeding the old traditional paintings or photos in frames.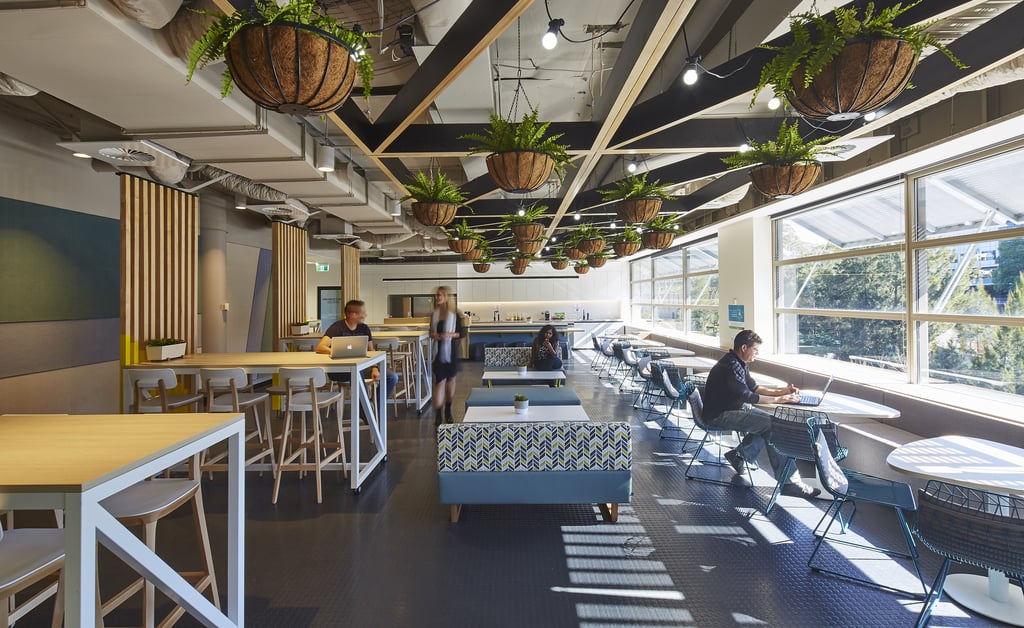 Ideas are endless
To further stimulate worker productivity some modern interior office spaces include saunas, ping-pong and pool tables, swimming pools, professional massages, eclectic eating areas, and nap rooms. A vivid room can inspire seriousness and creativity if the brilliance level and the amount of objects in the space complement one another. It's possible to assemble various nuances and still hold the space together. An office can be transformed into whatever one's imagination can envision by utilising simple techniques with great impact. Loads of money is not a prerequisite in order to create the perfect modern interior design for an office, what is needed is a fantastic sense of assimilating colours, plenty of nerve, and a sense of aesthetics.