Amicus are riding the Tour de Cure 2019
Join us as we travel to the idyllic seaside town of Kiama, before heading inland to tackle the scenic and beautiful country towns from Canberra to Corryong, before experiencing Central Victoria. This is some of the best riding in Australia, and you will be inspired by incredible stories about our communities along the way.
The Signature Tour brings us together, brings out our passion, and creates an amazing opportunity to achieve outstanding things in the fight for a cancer-free future.

Join us in helping those affected by brain cancer, the biggest killer of children in Australia. The survival rate has not changed in 10 years. The solution is in the lab and the researchers need vital funds to make a difference. The Love for Lachie Foundation is focused on making a difference. Amicus has a $200K target to raise for this event which will make a significant difference to brain cancer research as we fund an immunotherapy trial.

The Love for Lachie Foundation has been established in loving memory of my son's best mate Lachie Muldoon, who at age 10yrs old was diagnosed with brain cancer in April 2015. Lachie's parents, Tanja and Brendan decided to take Lachie for a scan in case he had a mild concussion from playing football. The scans revealed Lachie had a brain tumour that required urgent surgery, their lives were changed forever.

It was found that Lachie's tumour was the most aggressive form of brain cancer and after his first surgery, radiation and chemotherapy it quickly regrew, and he needed brain surgery for a second time in just 2 months. His cancer came back again after the second surgery within just a few short weeks, and this time it had advanced too far for surgery. Devastatingly this incredibly kind, fun loving, brave, beautiful boy passed away on October 13th, 2015 and left all that knew him shocked and crushed.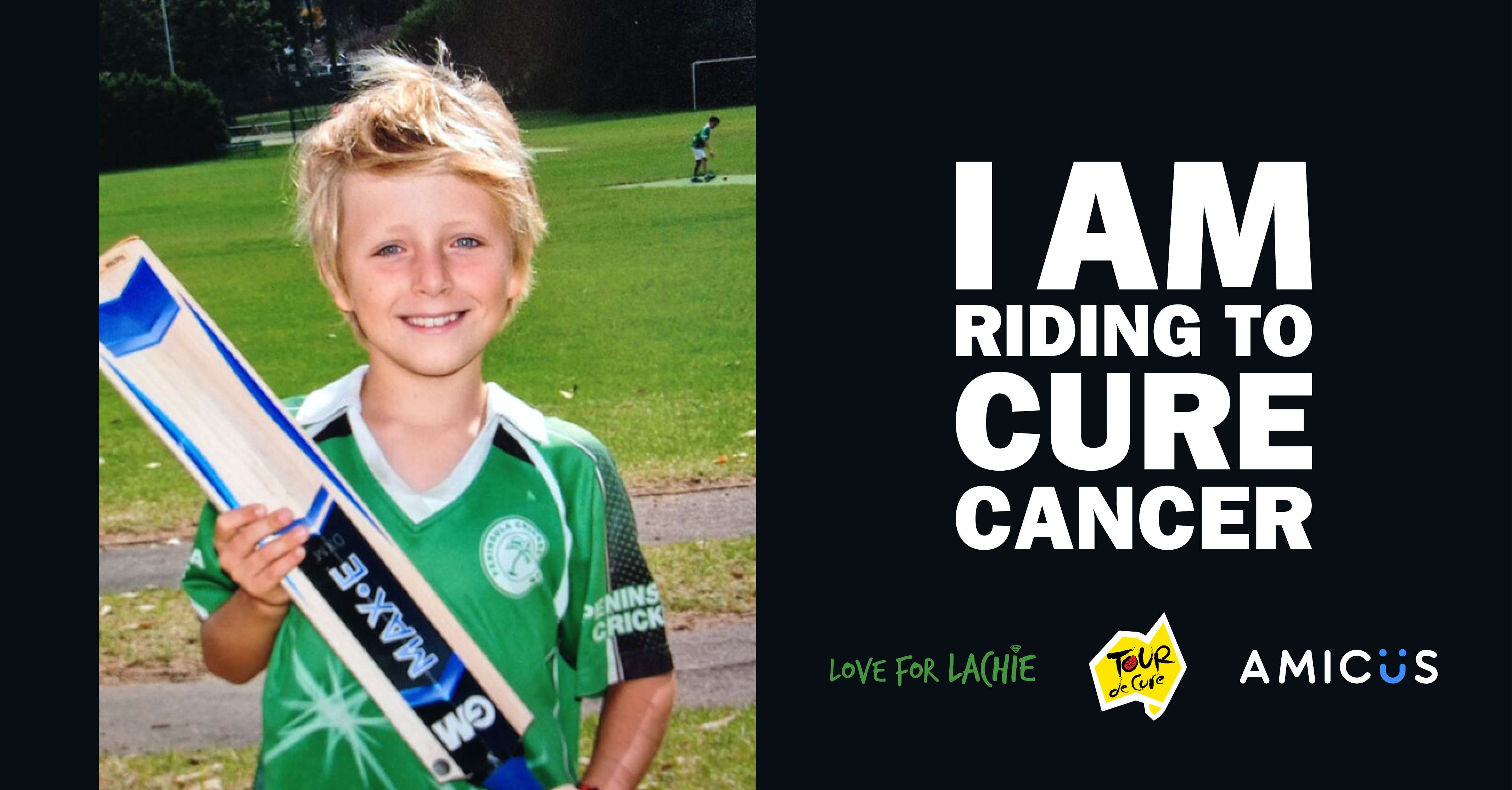 The Love for Lachie Foundation was founded by friends and family of Lachie and is supported widely through the community, to provide much-needed hope for families with brain tumour diagnosis by raising funds to help find a cure and tackle this terrible disease.

In association with the Love for Lachie Foundation, Amicus will ride the annual 9-day cycle tour. 2019 represents the 10th annual event and this year is held in Victoria. Myself, Amicus Co-Founder and CEO, James Kemp will join 7 Full Tour Riders and 5 Stage Riders from Amicus along with 100 other riders, cycling over 1,200km and almost 14,000m of elevation.

We're asking that you consider a donation that impacts the lives of many. The Tour's funded researchers have achieved 22 breakthroughs in cancer research. Thousands of equipment pieces are needed to keep that research going.

Your donation will make a difference. Fund world-class cancer research, prevention programs, and provide information and support to those affected by cancer.

The tour kicks off on May 3rd in Sydney and finishes up in Geelong on May 11th. Please follow our event via our Facebook Page and spread the word! Together we can make a real difference!