Technology Case Study: Dubber
Background
Dubber envisioned a modern and flexible workplace with seamless, simple-to-use and reliable technology to boost collaboration, encourage engagement and improve employee experience. They wanted to transform the office into an engaging, attractive space that connected staff and clients working from the office and remotely. It was essential that the technology complimented the new fit-out making collaboration and meeting experiences easy.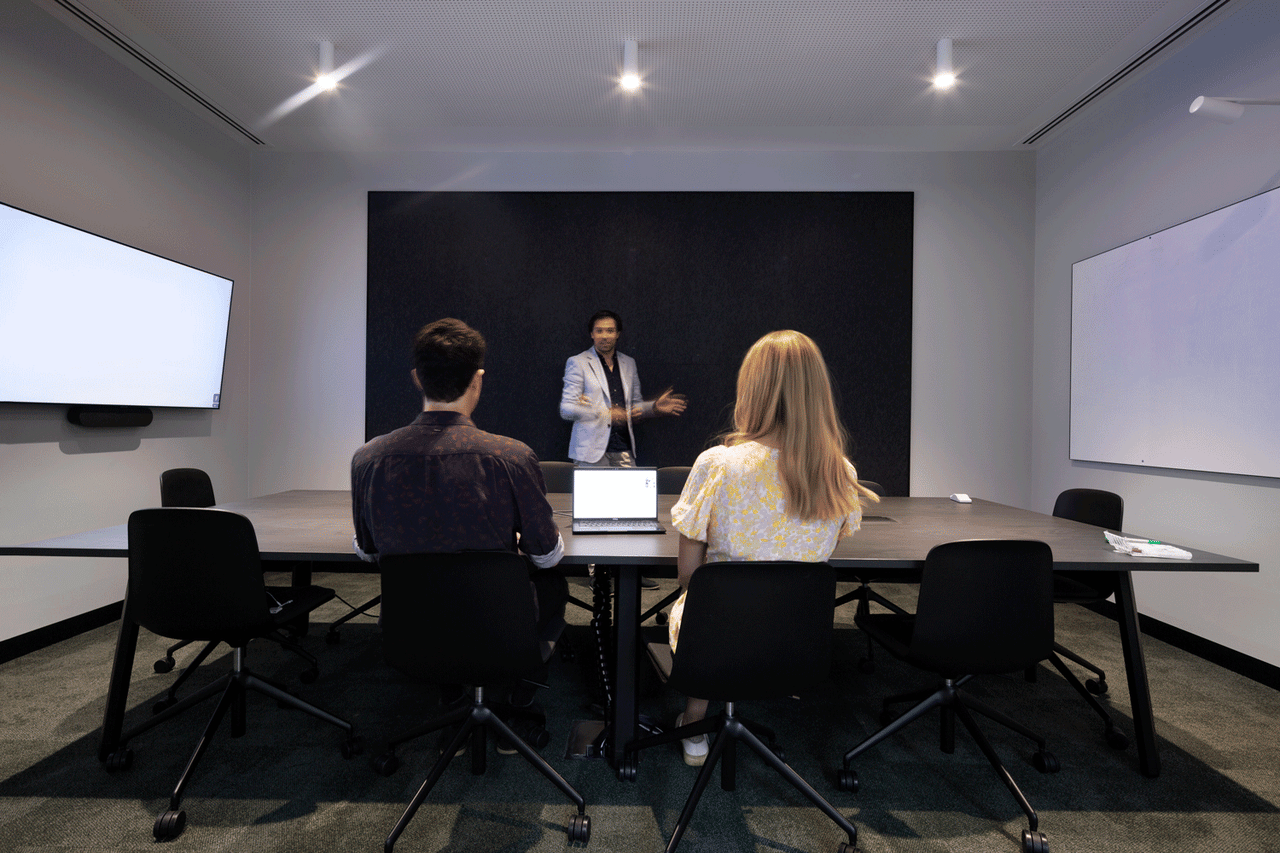 Solution
Amicus worked closely with the Dubber team to understand the experiences they wanted to create in the new office and align the right technology solutions to deliver this vision. The key workplace experiences identified during this discovery phase were:
Connect employees using bookable, video-enabled meeting spaces

Simple, easy-to-join, reliable meeting room experience for employees that just works

Share content wirelessly

Breakout area with ability to watch TV, stream content & play music

Greet guests with a digital visitor reception allowing a non-touch check-in and automatic notification

to the host of the meeting via email and text.
Bookable & Video Enabled Meeting Rooms
Meeting rooms had to provide a simple one-touch-to join experience, for Zoom and any other VC platform. Digital content sharing had to be wireless, simple and easy-to-use for employees. One late addition was the need to capture physical whiteboard content digitally and bring into a video call so remote participants can engage as well. The Logitech Scribe provided the perfect solution with staff sharing positive feedback noting improved collaboration.


Boardroom
The spacious boardroom has panoramic, sweeping views and is designed with exceptional collaboration technology enabling staff to start Zoom meetings instantly using the Logitech Tap VC system. They can also connect their laptop to the Logitech Swytch USB cable and run any VC meeting from their laptop using the high-quality in-room audio visual equipment.
Dual 65" Samsung Commercial displays allow people and content to be seen clearly across both screens. The 4k UHD Logitech Rally camera captures and auto frames people in the room with the Shure P300 DSP and stylish Sennheiser TeamConnect2 ceiling microphone array offering premium audio. It features 28 individual microphone capsules and delivers dynamic beamforming technology with advanced acoustic echo cancellation. Speech intelligibility in the room is dramatically improved (especially during periods of active group discussion) as it allows for targeted voice amplification whilst suppressing all other background noise. Everyone joining remotely can hear each person in the physical meeting room clearly and concisely. It's easy to share content wirelessly using the Barco Clickshare CSE200+ to give a consistent experience whether you're in a Zoom call or just sharing content from a laptop.
Staff members are enabled to clearly view current and upcoming bookings on the 7" Crestron Room Booking Panel mounted outside the room and instantly make a booking from the screen if necessary. This maximises utilisation of the space, reduces the risk of double bookings and provides a clear visual status of the room.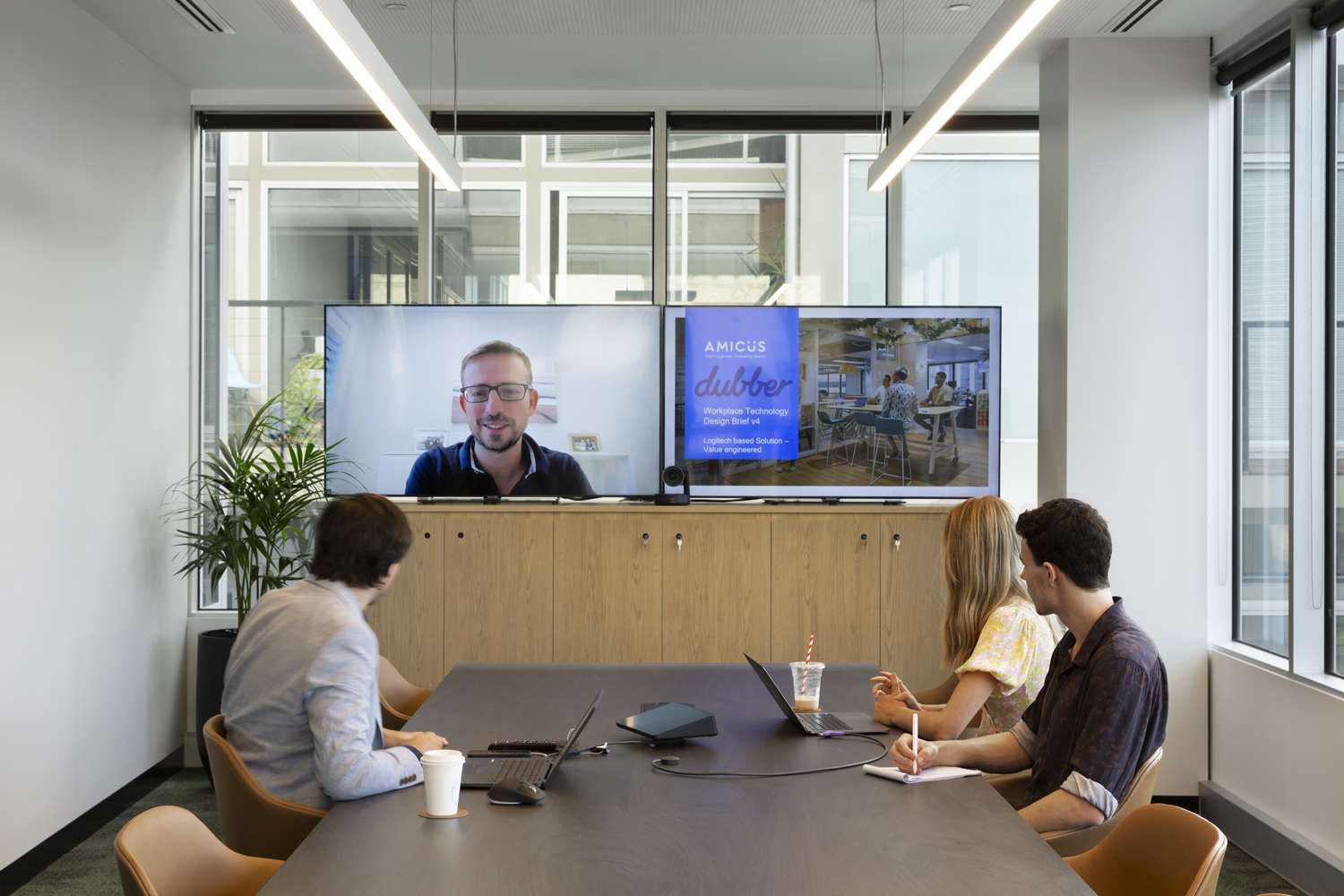 10p room
This room was designed for internal and external meetings, both face to face and hybrid Zoom calls. It has a consistent feel to the Boardroom with a simple one-touch to join from the Logitech Tap touch console. The Logitech Rally camera captures the in-room participants with Logitech front of room speakers and table microphones providing the audio.
The exciting addition to this room was the Logitech Scribe to digitally capture whiteboard content and display clearly on the VC call. This means people in the room can collaborate using the whiteboard whilst allowing remote participants to clearly see the content.
It's simple to share content wirelessly from all laptops, mobile and tablets into a video conference call with the tap of a button. This provides a consistent and flexible way for anyone in the room to easily share content onto the call no matter where they're sitting and without the need to be close to the HDMI cable.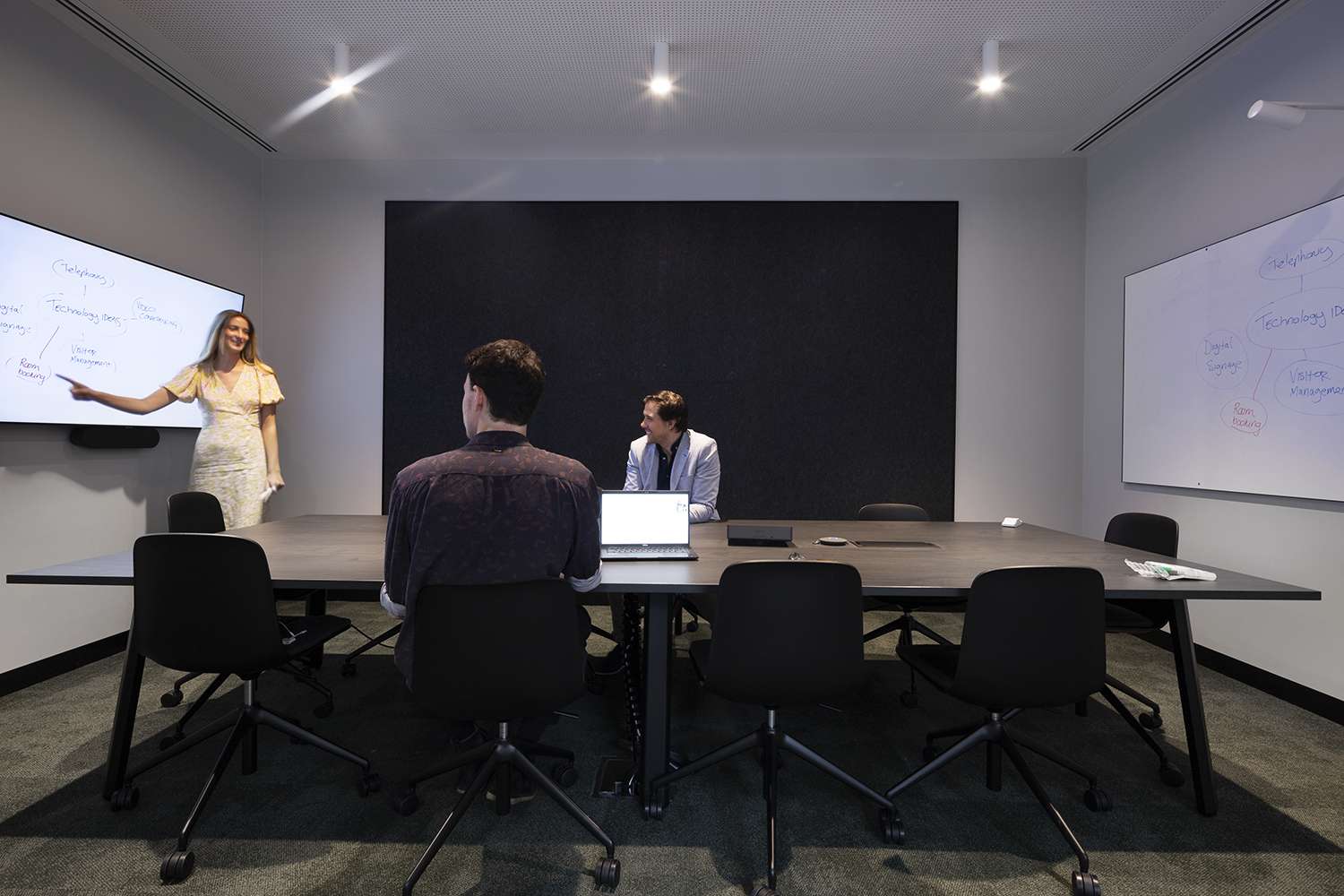 breakout area
This is a social space for Dubber with a pool table, a bar and technology that allows employees to stream and share content from an Apple TV or laptop and beamed via the Epson laser projector to a large, motorised projection screen. Audio, including music via a Sonos Port, is pumped out from the Bose DesignMax pendant ceiling speakers and Crestron X-Series amplifier.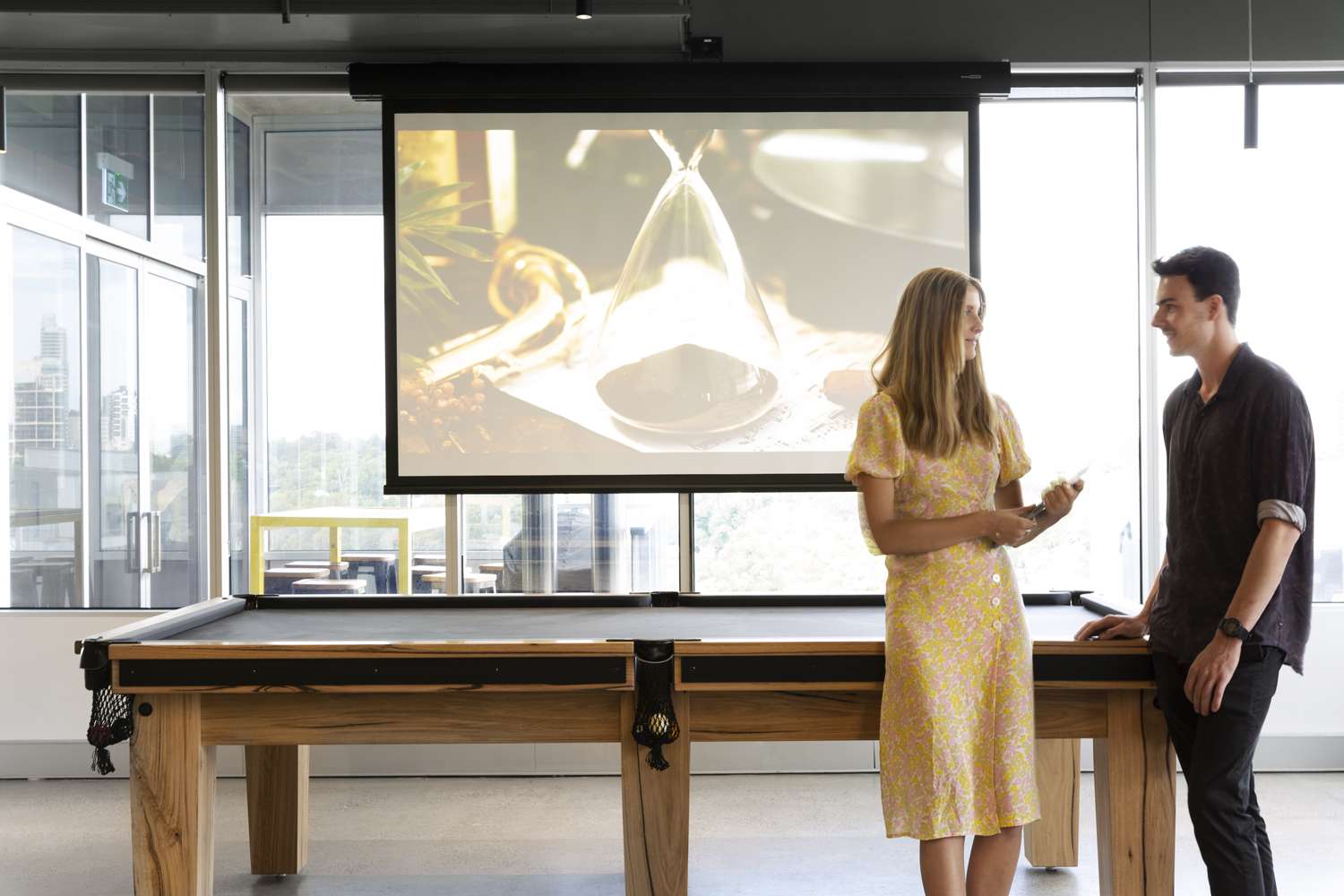 podcast studio
Dubber wanted to record podcasts and other content, so we designed a Podcast and VC Studio featuring a Rode Caster Pro all-on-one production console, podcasting mics and a Logitech Meetup all-in-one conference camera. An effective space for recording crystal-clear podcasts.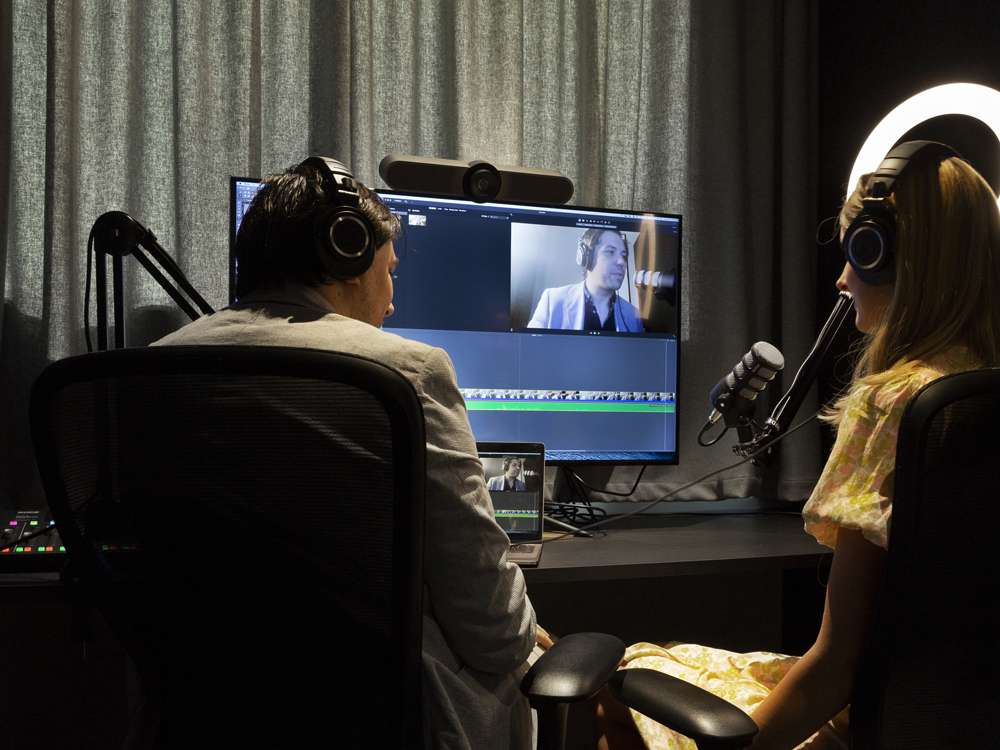 DIGITAL VISITOR MANAGEMENT
Dubber wanted to create a memorable experience for visitors when entering the office. The Proxyclick visitor management solution ensures visitors receive an invite in advance allowing them to register their visit and receive a QR code. On arrival at the office, a visitor can simply walk up to the check-in kiosk and scan the QR code. The host of the meeting is automatically notified by email or text message saying their visitor has checked in and ready to be greeted. Proxyclick, part of the Condeco workspace management solution, also enables important visitor information to be captured and can help manage visitor workflows and improve safety and compliance.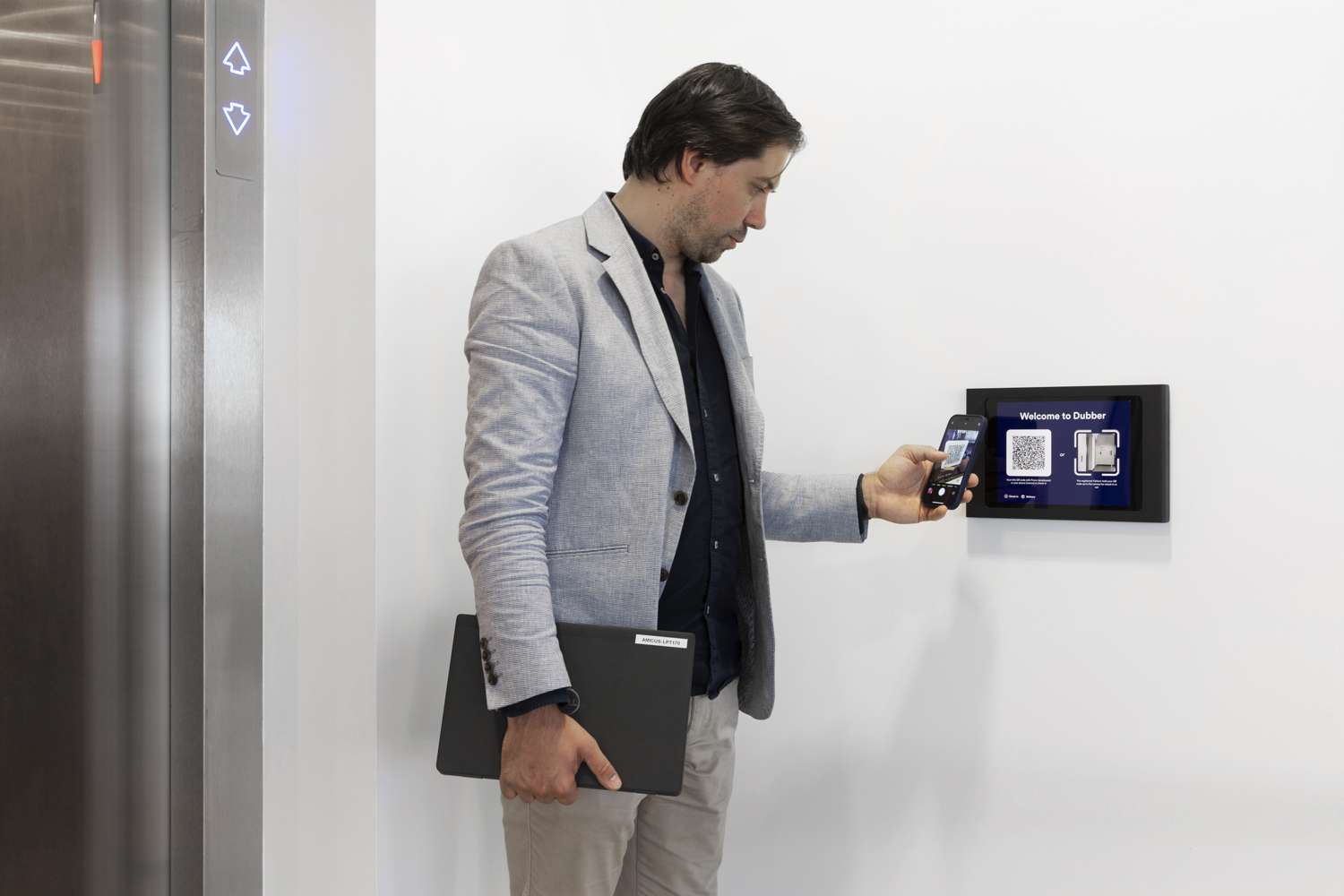 Benefit
Together, the seamless design and technology implemented have created a thriving workplace, delivering on Dubber's vision. The technological solutions throughout the space have visibly advanced hybrid ways of working, supporting flexibility and collaboration between clients and teams. Additionally, this has enhanced communication and working relationships, ultimately improving productivity whilst retaining and attracting talent.