Is what I have what they need?
Employee Experience Manager (HR and Learning), Zoe Sharan shares her insights...
After COVID-19 hit, I saw a number of people offering their skills to help others and I wondered what I could do.
I decided to freely offer any two learning modules that I'd designed for Amicus internal team members, to our broader community. Out the offer went and in the emails came from people expressing interest. Many also gave me a hint about why they were interested. This was so useful and I started to rethink my initial plans to offer what I already had.
ADDIE has always served me well (we can debate it vs SAM vs others separately later) so this was my approach for the series which is now known as: Thriving in the Construction Industry.
Analysis
I know surveys can be irritating but I was offering 2 modules and 6 themes were emerging from the initial anecdotal feedback that was coming through. Enter my thought "hmm ... is what I have what they need?". A survey went out testing both the topics and delivery types.
Motivations for participating and preferred delivery method:
Keep me busy – "I have some down-time (due to COVID-19 or other) and I want to be able to show my current or future employer that I kept busy learning new skills during this time"
Grab & Go – "I want quick sessions where I can just listen and take notes with my camera off"
Go deeper – "I want human interaction, I want the camera on i.e. see, talk to and do activities with other people and swap stories"
Get me connected – "I want to meet new faces, I want to network, I'd like to build my contacts"
There were 2 capabilities that stood out as needs:
Learning new ways (vs being stuck in the old)
Communication
Also, people were wanting access to expert industry knowledge.
Design
Based on the top topics voted for in the survey, and how people said they'd like to receive them, a matrix soon unfolded for the virtual delivery types (who can say no to a matrix when an opportunity presents).
The horizontal axis had 'Camera Off' at one end and 'Camera On' at the other. The vertical axis had 'Participant Driven' at one end and 'Facilitator Driven' at the other.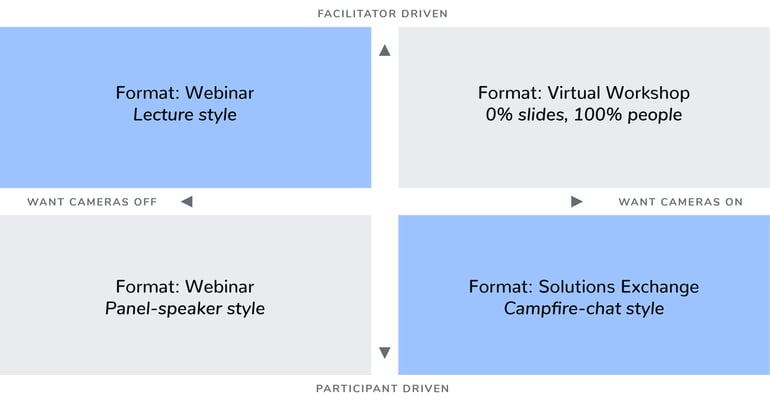 In this matrix all motivations for participating and preferred delivery methods were covered:
Keep me busy – Happy because there's 4 topics. Also, they won't feel like it's ground hog day each time they join me as they are all in a different format
Grab & Go – Happy because the upper and lower left quadrants each offered a webinar, but in tow different styles
Go deeper – Happy because the upper right quadrant offered human interaction and a deep, rich learning experience
Get me connected – Happy because the lower right quadrant offered their networking opportunity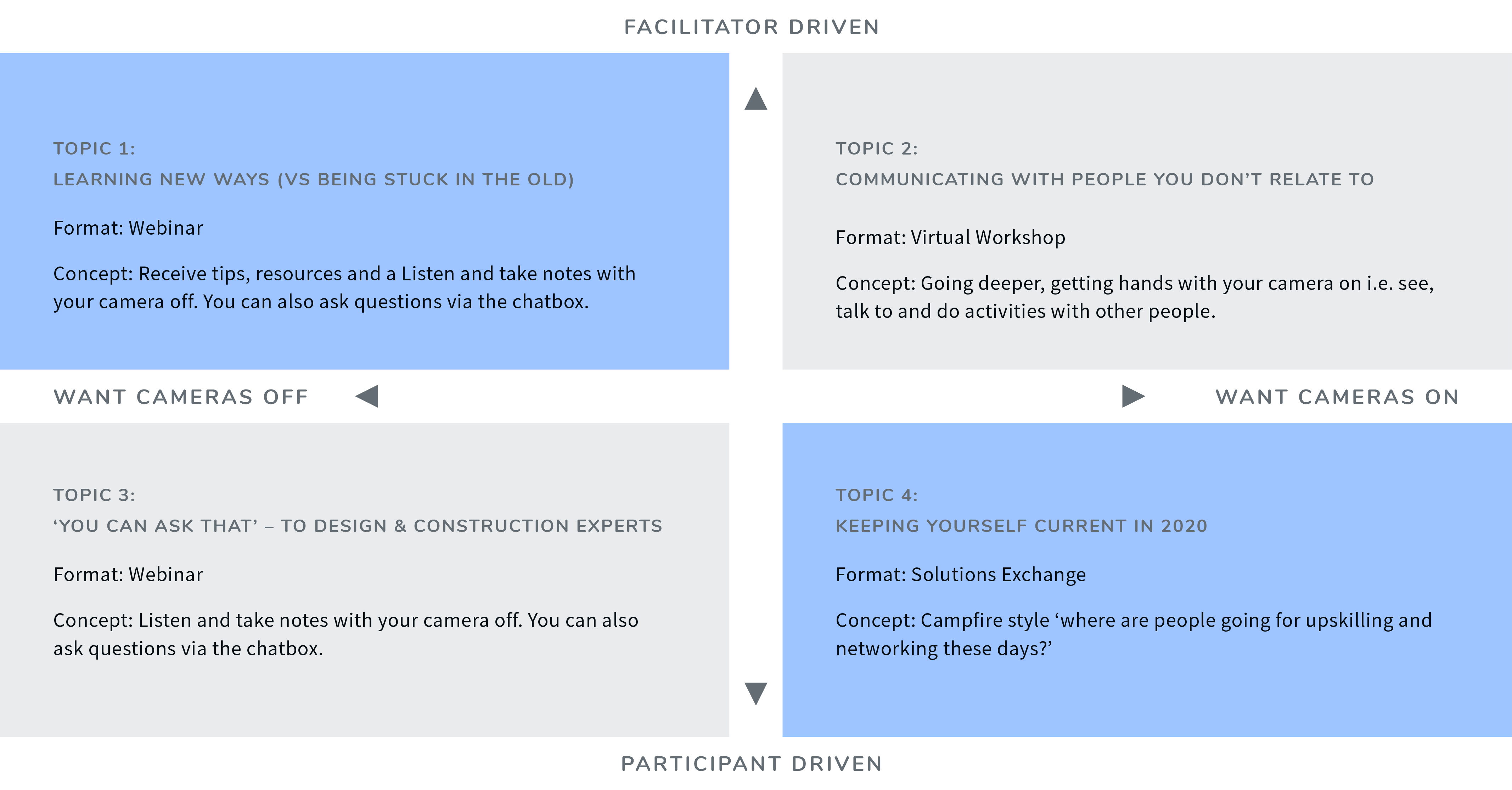 Develop
Fleshing these out has been such a great experience!!! Off the top of my head, here are all the things I've facilitated, experimented or reunited with:
Microsoft whiteboard
Zero screen share/zero slides
Polls
Breakout rooms
Chat box
Much more!
Implement
The roll out schedule was weekly.
Evaluate
We're not totally done yet, but current NPS shows majority are "promoters" and there's a theme that getting everyone involved (in one way or another - format determined) has been what people have really valued.
Where next?
I can't confirm if I will or wont offer this again in the future. I'm now a little behind on some internal initiatives (which I wouldn't change anything for!) so I need to redirect to these for now. But, given I'm a sucker for all things to do with sharing learning, I'd say I will offer something further at some point.
To know about future offerings, subscribe to events, or just head to our events page and look for the "Thriving in the Construction Industry" modules.
You know I love questions and comments so please let me know any I can either answer for you, or take on board.