In the world of lab construction, precision meets complexity and every detail carries a price tag. Building a laboratory involves unique challenges and specialised requirements that can significantly impact the budget.
Through our years of experience we have learned that each project requires a tailored approach to deliver the best solution for our clients. However, the first question on everybody's lips is 'how much'?
How much does a lab cost to build?
As of June 2023, our projects are typically from $4,000 per sqm.
Factors such as the size, high level of environmental complexity, lack of basic infrastructure or inadequate utility services required to operate a laboratory can easily double the square meterage rate.
Typically, the range is between $4000 and $7,000 per sqm.
In the Amicus Labline Fitout guide we have detailed key cost drivers:
Environmental control
Number of environments
Number and type of lab services
Availability of services
Suitability of site
Size of lab
We have explained why, relative to an office, it costs so much more to build laboratories.
Download our Lab Fitout Guide >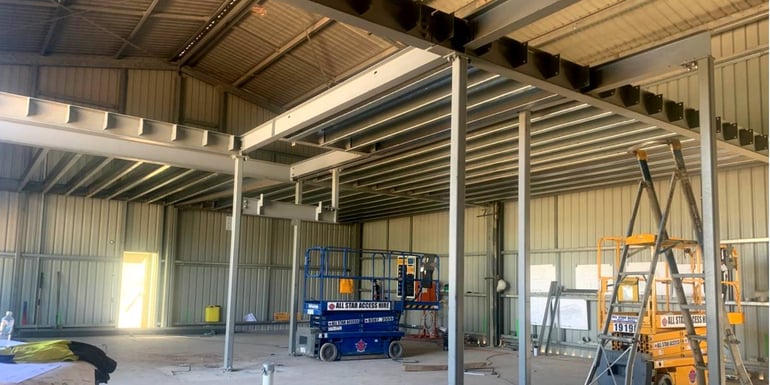 What are some of the cost considerations for lab construction?
Suitability of site incorporates the concept of warm or cold shell. For example, a site with adequate power, a compliant switch board and electrical infrastructure that can easily be adapted to meet your needs can save you tens of thousands of dollars. This is often referred to as a warm shell.
Conversely a cold shell has no interior finishes, no HVAC services beyond the riser (or core or rigid duct), and without lighting, plumbing, ceilings, floor finishes, interior partitions, or walls. There are typically limited or inadequate utility services such as water and electrical supply, no space for mechanical plant on the ground floor, forcing it to be placed on the roof which often needs to be structurally reinforced to house this equipment. These factors significantly increase the build cost and should be carefully reviewed when considering a cold shell tenancy arrangement.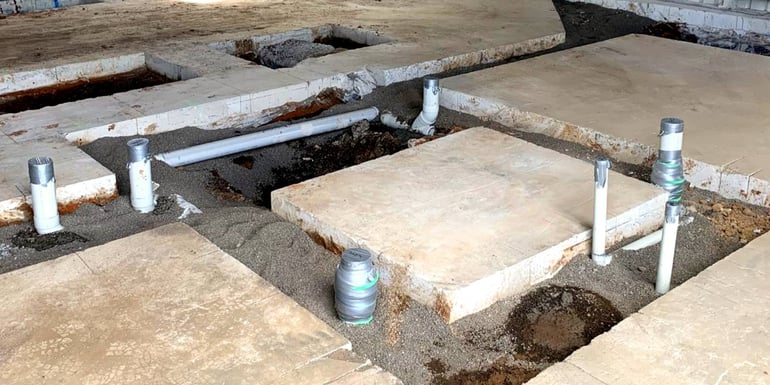 Budget insights for laboratory construction
Below we provide insight into the budget apportionment by trade, preliminaries and professional services.
Each project has its own scientific requirements and building complexity making comparative data very difficult. I have chosen three recent projects of varying size from 200sqm to greater than 1000sqm to elaborate on this point.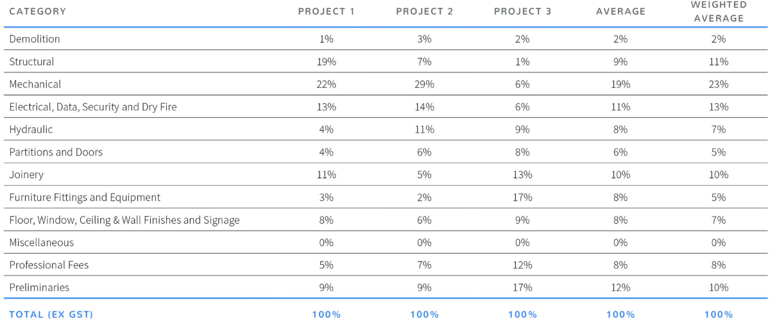 Project 1 is the largest and Project 3 the smallest.
The "Average" data is the percentage mean of the 3 projects. The "Weighted Average' adjusts for the relative size of the projects.
Lab Cost Impacts By Category
Structural – This can be next to nothing or a significant expense. Project 1 required a mezzanine floor to be built and Project 2 a plant platform on the roof of the building. Whilst the mezzanine cost is obvious many of our clients do not identify costs such as a plant platform before signing a lease.
Mechanical – Generally a very significant element of a laboratory build, and materially different to the cost of other workplace fitouts. It covers costs such as fume or dust extraction, laboratory gas reticulation, heat extraction for equipment, air conditioning, humidity, and pressure control. In the above scenarios, there was only minimal changes to the Mechanical solution for Project 3.
Electrical – This is governed by the maximum demand required by the tenant verses the available power at the sub mains to the tenancy. Often a significant upgrade is required for the types of outlets or amount of power to the space. Electrical typically incorporates investment in security, data and dry fire.
Hydraulic – Allocation will swing massively dependent on number and types of water to be reticulated and whether waste needs to be treated. Additionally, should wet fire (i.e. sprinklers) be required it will significantly increase the cost in the hydraulics infrastructure. It should be noted none of these 3 projects required wet fire or multiple forms of reticulated water.
Partitions and doors – For labs, there are so many factors that can impact the costs of doors and partitions. From a compliance perspective do they need to be fire rated, sound or even bomb proof? For the prevention of cross contamination, does the partitioning need to be slab to slab as opposed to running to the underside of the ceiling grid? Where cleanrooms have been specified, it is likely that we will be doubling up on doors and additional partitioning to allow for ante rooms. Aesthetically, is there a desire for glazed, half height glazing or gyprock walls? Often to future proof the labs double doors (or at least with 1½) wide and tall are specified.
Joinery – Lab joinery is nearly always bespoke fit for purpose to provide maximum flexibility. The use of steel frames and hardwearing chemical resistant benchtops, allowance for mobile storage units to sit under bench and can be easily moved around as required. In contrast to fixed joinery, which while is more cost effective, limits flexibility and the ability to future proof.
Professional Fees – This covers Architectural Design, Engineering Services Design, Project Management and Quantity Surveying. The relative weighting of professional fees is influenced by several key factors. These include the complexity of the environment being created compared to the existing conditions, the number of engineering disciplines required (such as Mechanical, Electrical, and Hydraulic design), the size of the project, and the characteristics of the building's existing structure. These inputs play a crucial role in determining the allocation of professional fees in lab construction projects.
Preliminaries – There are many factors that impact the preliminaries, such as; the relative size of the project, (i.e. site supervision is not perfectly correlated to the size of the project), the level and quantum of client driven reporting, the percentage of work needing to be performed out of hours, and location (i.e. do we need to pay LAFHA, remote access).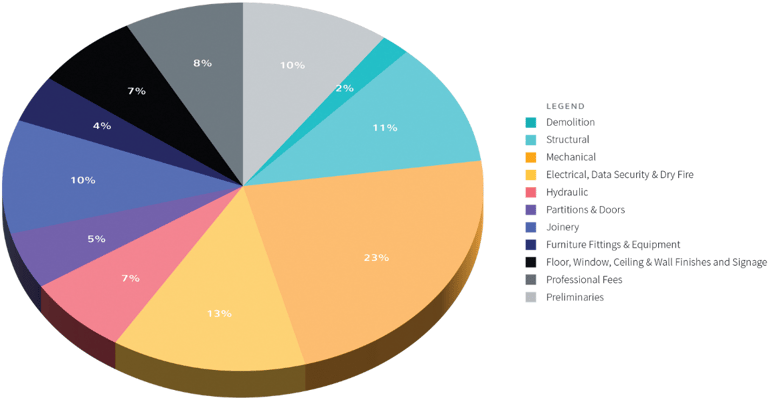 Understanding the indicative budget and costing apportionment in lab construction is essential for successful project planning. From structural considerations to mechanical, electrical, and hydraulic elements, each component carries its own price tag and impact on the overall budget.
By providing a comprehensive understanding of the cost drivers and complexities involved in lab construction, our aim is to equip you with valuable insights that empower informed decision-making. It's important to remember that each project is unique, requiring careful evaluation of specific requirements, complexity, and size. Armed with this knowledge, you can confidently navigate the intricacies of lab construction budgets, ensuring optimal outcomes for your scientific endeavours.
Embrace the power of informed choices and embark on your lab design and construction journey with clarity and confidence.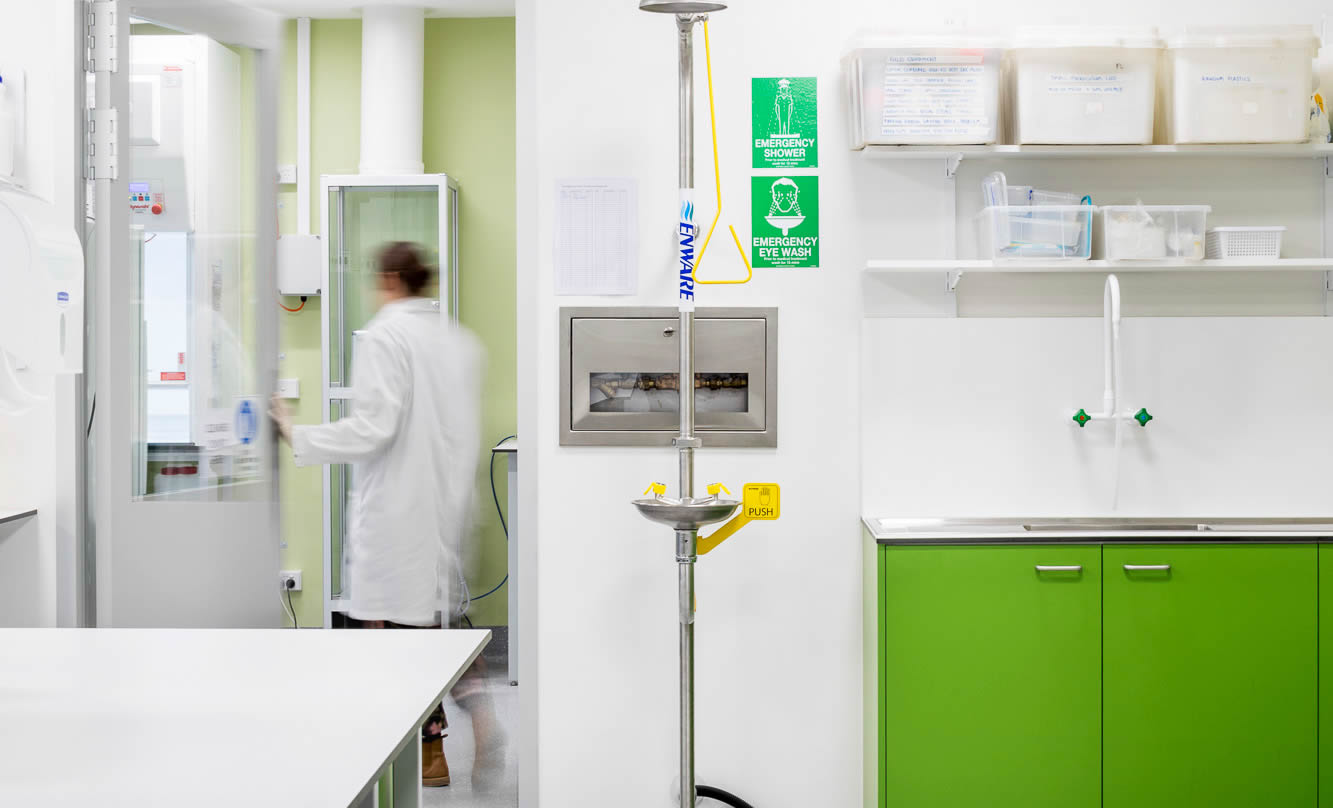 We hope you've found this guide to laboratory construction costs useful. Please reach out to our team to find out more. or Download our Lab Fitout Guide >
*The information is current as at June 2023. The Construction industry has experienced significant inflation over the last 24 months; any budgeting should allow (at a minimum) for further pricing escalation in line with inflation.