Technology Case Study:
Siemens Healthineers
Background
Siemens Healthineers wanted to create a flexible, agile and collaborative workplace for their employees that would provide a sense of community and improve employee experience. Introducing seamless technology was fundamental to their employee experience and it was crucial that the technology was easy to use, adaptable and reliable. To complement the design, the technology solutions focused on ways of connecting rooms to make agile, multipurpose spaces.

Solution
To digitally integrate the office and boost employee experience, a variety of modern workplace technologies were introduced.
Amicus Technology rolled out a multiplatform one-touch to join Logitech Tap VC system in key meeting rooms including a town hall location, enabling large hybrid meetings.
The town hall space is set up as a Microsoft Teams room with a Logitech Tap to efficiently begin a Teams VC call, with the ability to switch to Zoom or any other VC platform using the Logitech Swytch. An Epson projector and large motorised projection screen displays content clearly with a Logitech Rally camera mounted on the ceiling to capture the presenter so everyone joining remotely can see them. Shure wireless microphones ensure the presenters can be heard clearly and allows them to move freely. This space can also be used as a social connection hub with background music through Crestron ceiling speakers and the ability to stream any live TV or on-demand service such as Netflix onto the projector.
The 20-seater modular boardroom is a beautifully designed main feature of the office and comprises premium quality technology to deliver a great meeting experience. Users can start a Teams VC meeting in seconds with one tap of a button on the Logitech Tap console or use the Logitech Swytch to run any VC call from their laptop. Dual 82" Samsung commercial screens enable call participants to be seen clearly across both screens during a Teams call or one screen if content is being shared on the other. Wireless content sharing is simple with one click of the Barco Clickshare button.
Amicus Technology wanted to ensure the audio quality was top quality and designed a ceiling-mounted audio solution using the impressive Sennheiser TeamConnect2microphone array, which runs on their network to reduce clutter and simplify cabling, as well as Creston ceiling speakers and amplifier.
The smaller meeting rooms have been future-proofed with simple to join Logitech Tap VC systems that provide high-quality meetings for clients and collaboration amongst staff. Sustainability was a major factor throughout the build so there was a strong focus on reusing existing functional equipment where possible to provide basic functionality in the smaller spaces across the office.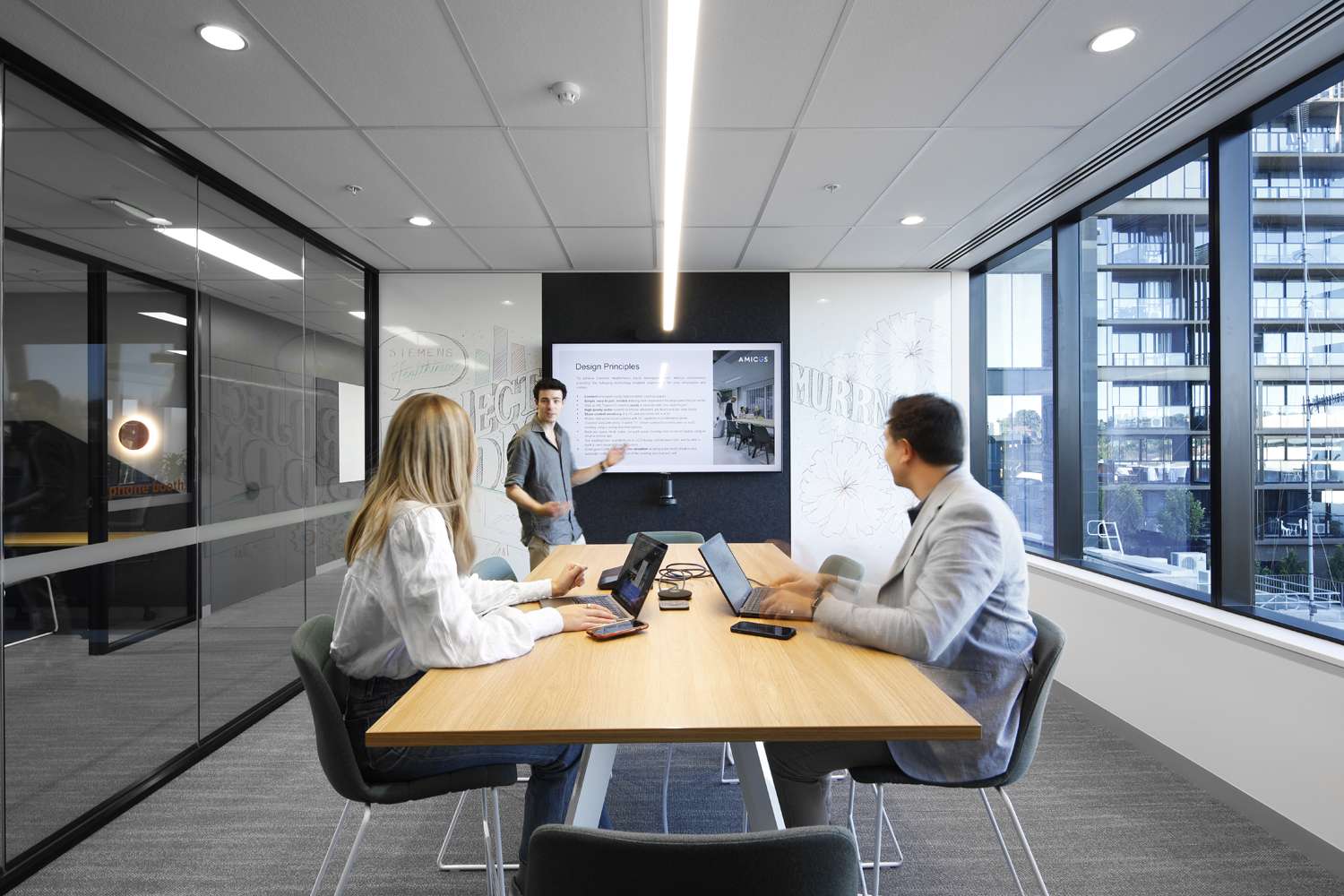 Benefit
This new technology designed by Amicus now allows Siemens Healthineers staff to embrace flexible working with VC enabled rooms and spaces that boost employee experience and engagement. The updated technology also meets the companies need for international VCs, improving collaboration and work relationships across the business. Siemens Healthineers workplace has transformed into a digitally integrated, engaging, and inspiring space to work in.
Due to the recent success of this project, the Siemens Healthineers has further engaged Amicus Technology to deliver three more identical systems across the company.