ABW vs Hot desking, what's the difference?
One certain way to upset a workplace designer or strategist is to use the term hot desking when describing flexible workspaces. Hot desking is rarely spoken of in a positive light by either experts or novices, but for very different reasons.
Hot desking is thought to have derived from the naval term 'hot racking' where sailors share bunks when sleeping in shifts and refers to people sharing desks in offices either to reduce floor space or because a team or individuals are only occasionally in the office. Generally, each hot desk is much the same as the next and sits row by row in an open-plan environment. The research around the experience of these environments ranks them as the poorest performing spaces, not only in how they look but also in terms of their impact on productivity, collaboration and engagement.
With the large-scale shift to hybrid working, we see a temptation to simply remove assigned desks in response to lower office attendance. This simplistic hot desking approach fails to acknowledge how people need to work when they are together and what spaces and technology will enable them to do great work.
In contrast to mere hot desking, Activity-Based Working (ABW) recognises that people perform different activities in their day-to-day work, and therefore need a variety of work settings supported by the right technology and culture to carry out these activities effectively.
Over the course of a day, we find ourselves in meetings, one on one chats, answering emails, concentrating on a task, in an unplanned collaboration or a conversation over coffee. The gap between a traditional office environment filled mainly with desks (assigned or not) and formal meeting rooms and how we currently work in more collaborative and less hierarchical ways is rapidly growing. More traditional environments can hinder how we want to connect with others, the ways we share ideas and how engaged we feel with our organisations.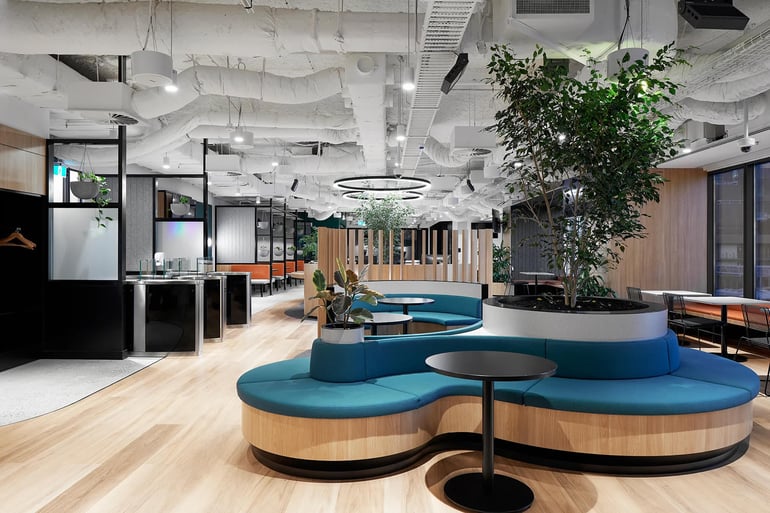 ABW environments aim to provide a wide variety of spaces and settings that are designed specifically for the organisation and the activities of its people. It may be a mix of open-plan desks and focus pods, with informal collaboration spaces, a large social space, a mix of meeting rooms, phone booths for calls, and private spaces for conversation or relaxation. They are strategically developed and implemented with technology that enables mobility, seamless connection and quality collaboration.
A shift to effective Activity-Based Working is not a build it and they will come proposition. It needs to be developed alongside a cultural foundation of trust and autonomy, where people are empowered to choose the best location to work from moment to moment and where performance is measured through outcomes over attendance.
Activity-Based Working is ultimately a cultural shift to a more human-centred way of working. Supporting high performance, engagement and collaboration, enabled by an office design and virtual toolkit that is customised for the organisation.
If you would like to learn how we can assist you in your next project, get in touch.