In this post-pandemic world, the workplace has changed forever. Hybrid working is here to stay, with the latest Leesman report showing that over 90% of organisations have adopted or plan to adopt a hybrid workplace model, and a recent Accenture report showed that 83% of employees prefer to work within a hybrid working model.
But many organisations are approaching office design for hybrid working the wrong way. As Lisa Justice, Senior Workplace Strategist at Amicus says, "I think that what we have wrong is how we think about the workplace and the office. We are trying to mesh traditional thinking about where and how we work with a new model. It is our thinking that needs to be different."
Pros and cons of Hybrid Work
It's still very early days in this shift to hybrid work, but already we've seen what works well, and what doesn't. On the positive side, most employees report increased work satisfaction and productivity when given the freedom to choose where they work., On the negative side, people report feeling a loss of connection from the decreased social opportunities that physical presence in the office can provide.
For employers, happier and more productive employees are an obvious win. However having disconnected employees, both in a social and technological sense, can stifle collaboration and creativity. Disconnection can limit learning and relationship building opportunities, leading to dissatisfaction and ultimately higher staff turnover.
Working from home vs the office
Now that many workers have had a taste of working from home, and in most cases have ironed out the bugs to create a pleasant and productive home working environment, the dynamics around coming back to the office have changed.
What was once accepted without much thought – the time and cost of commuting and working in a space you have limited control over – is now seen as somewhat of a chore by many. It has become essential for the office to offer real value to employees and the onus is on the organisation to determine what will provide that.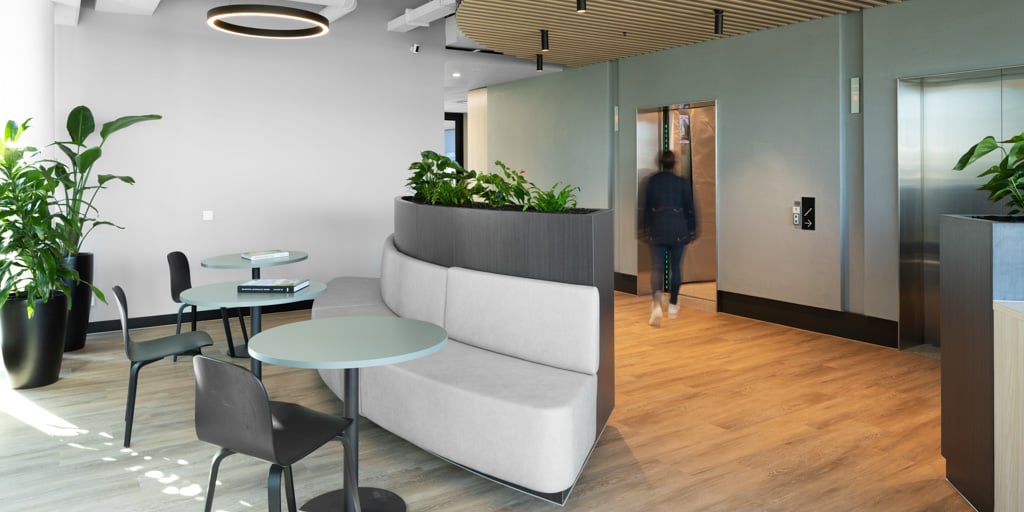 Attracting and retaining talent is just the start
Your physical office design has a powerful influence on people at every stage of the employment cycle, from the first visit by a prospective employee to long-term staff who've been with you since well before the COVID era.
First impressions obviously count, but in the hybrid work era you now need to consider a new factor: Your employees are choosing every day whether to come to the office or not. Their experience in the office space, from walking into a (hopefully) welcoming space to walking out (hopefully) inspired at the end of the day, will in part determine how often they choose to come back.
A key finding in post-pandemic workspace research is around the concept of value, in two senses:
Personal: Employees need to feel valued

,

and that the space created for them to achieve their best work gives them a sense of how they are valued by the organisation
Experience: The experience of being in the office must add significant value above and beyond what employees get from working from home; this can be in areas such as social connection, collaboration, technology availability and in just feeling like being part of a team
The office design and fitout plays a major role here, but achieving it is more than making the office a fun space to work. The last decade has seen some great examples of well-designed and highly appealing workplaces. To really nail the new hybrid environment, an organisation must align the workplace design with their staff's preferred ways of working, organisational purpose, culture, and with technology to enable seamless productivity everywhere.
Designing for how people want to work
A key trend that has been building since before the pandemic and is now even more prevalent is Activity-Based Working (ABW). Gone are the days of fixed cubicles that locked workers to their desks, and the open-plan office that sparked connection but hindered focus.
ABW is all about creating different zones within an office to facilitate different ways of working and the different types of activities performed across an organisation. These typically include:
Spaces for focus and individual work, typically desk-based but can include dedicated focus rooms or shared spaces where quiet activities are undertaken

Open collaborative spaces to encourage connection and teamwork, often with softer furnishings such as lounges and/or flexible spaces where people can arrange furniture to suit the activity. These are often tech-enabled with large screens, video-conferencing and other tools to foster productivity and connection with remote team members

Meeting and project rooms that allow for private meetings or team gatherings, equipped with technology for hybrid meetings and meeting room scheduling

Private booths for phone calls, small private meetings or solo work

Café areas to foster connection in a less formal environment and provide employees with an uplifting space for meals, coffee breaks or working in an environment that enables spontaneous connections
The two key elements to making ABW work are an office design that considers your individual company's purpose, culture and employee preferences. Supporting this is a guided behavioural shift to ensure that your employees take on the required etiquette that an activity-based workplace needs to function effectively.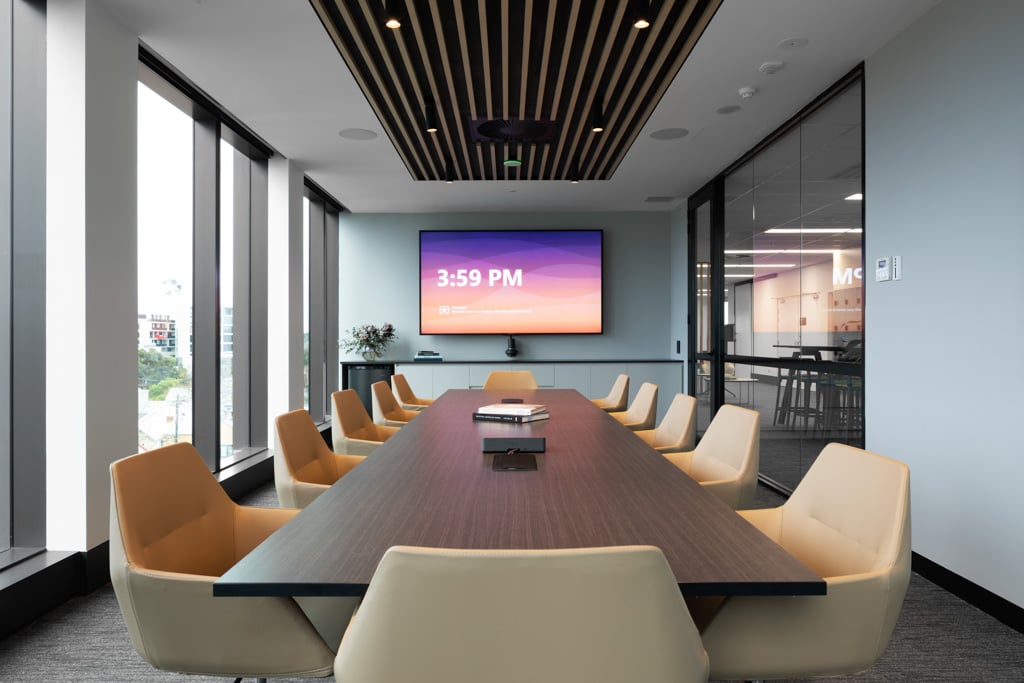 Technology is key
With companies now having a mix of in-office and remote workers on any given day, technology has become one of the most important factors in making the hybrid workplace actually work.
Hybrid meetings are now standard, but many workplaces suffer from a new phenomenon known as 'meeting inequality'. This is when remote attendees are disadvantaged by being less able to be seen or heard, or even having more subtle factors like body language less able to be discerned by in-person meeting attendees.
Many organisations are well overdue for a meeting tech overhaul. Current video-conferencing technology offers features like high-definition video and audio, speaker tracking, in-room chat, and in-room touch displays while meeting leadership can also help ensure remote participants get equal access.
Other technology such as desk or meeting room booking and scheduling tools also play an important role, enabling people to work where they want to, when they need to.
It's about the people
The hybrid office design that is right for your business will be different to that of any other company. Your organisation is unique in its culture, purpose and people. Ultimately, it is all about connecting people and the goal in the post-pandemic era is to create a hybrid workspace model that works for your people and your business, then design and build the office that best fits that model.
Partner for success
Good office design and fitout companies understand all this and will typically start by taking the time to truly understand your people, culture, organisational purpose and values. It's still early days post-COVID, but enough businesses have made a successful switch to hybrid working that you can judge potential fitout partners on their track record on this point, more so than their pre-COVID achievements.
A final consideration is that given the complexity of this transition and the many different skills required, the ideal partner should have capabilities that span the breadth of Strategy, Design, Fitout, Technology and Change Management. Experience in helping guide the behavioural transition to Hybrid and Activity Based Working would be a bonus. At Amicus, we have all these solutions in-house, providing our clients with the ease of dealing with one company while also saving time and fees associated with dealing with multiple contractors.
With the right motivation and the right partner at your side, there's no reason your transition to a hybrid workplace model can't be a success for your people and your business, now and well into the future.