Workplace Strategist Lisa Justice on the Purposeful Office
As we move through 2020, the experience of living through a pandemic, now six months in, continues to surprise.
The recovery timeline, both in terms of the economy and our ability to move freely, is longer and perhaps more unclear than we ever imagined. Remember the 'V-shaped' recovery our politicians talked up?
While people are motivated for many different reasons these days, I find it hard to believe the ghost town that has replaced the bustling city centre is a result of workers' fears of catching COVID-19. For it would seem, that as soon as we aren't required to get on the bus, train or ferry to make our way to the office, we see very little reason to do so. And if a trip to the office doesn't provide us with clear and substantial rewards, then it feels little more than a waste of time, better spent with family or just getting the work done!
Many organisations are now deep in conversation about the purpose of the office. Do we instruct workers to return? Do we abandon the office entirely, as some have done already, and just meet occasionally? While no doubt many leaders themselves are enjoying the absence of a daily commute, we know instinctively that the office has a purpose. Defining this is the key challenge.
So, what is it about an office that can't be replicated by remote working? Is it ad hoc collaboration that drives innovation? Possibly, but surely this can't be the basis of an organisation's success? Is it quick problem-solving or learning opportunities? Or is it simply that our workplaces are our communities – they provide us with all sorts of social interactions and rewards, that are inherently valuable, but entirely immeasurable.
Sorting through the purpose of the future office is what organisations should be considering now. We know that any sort of disruption provides a unique opportunity to effect change that can otherwise be difficult to achieve. And whether the conversation is about the semi-permanent arrangements in place while COVID-19 remains among us, or a more long-term commitment to a new way of working - questions around culture, flexibility and the value of real estate are begging to be answered.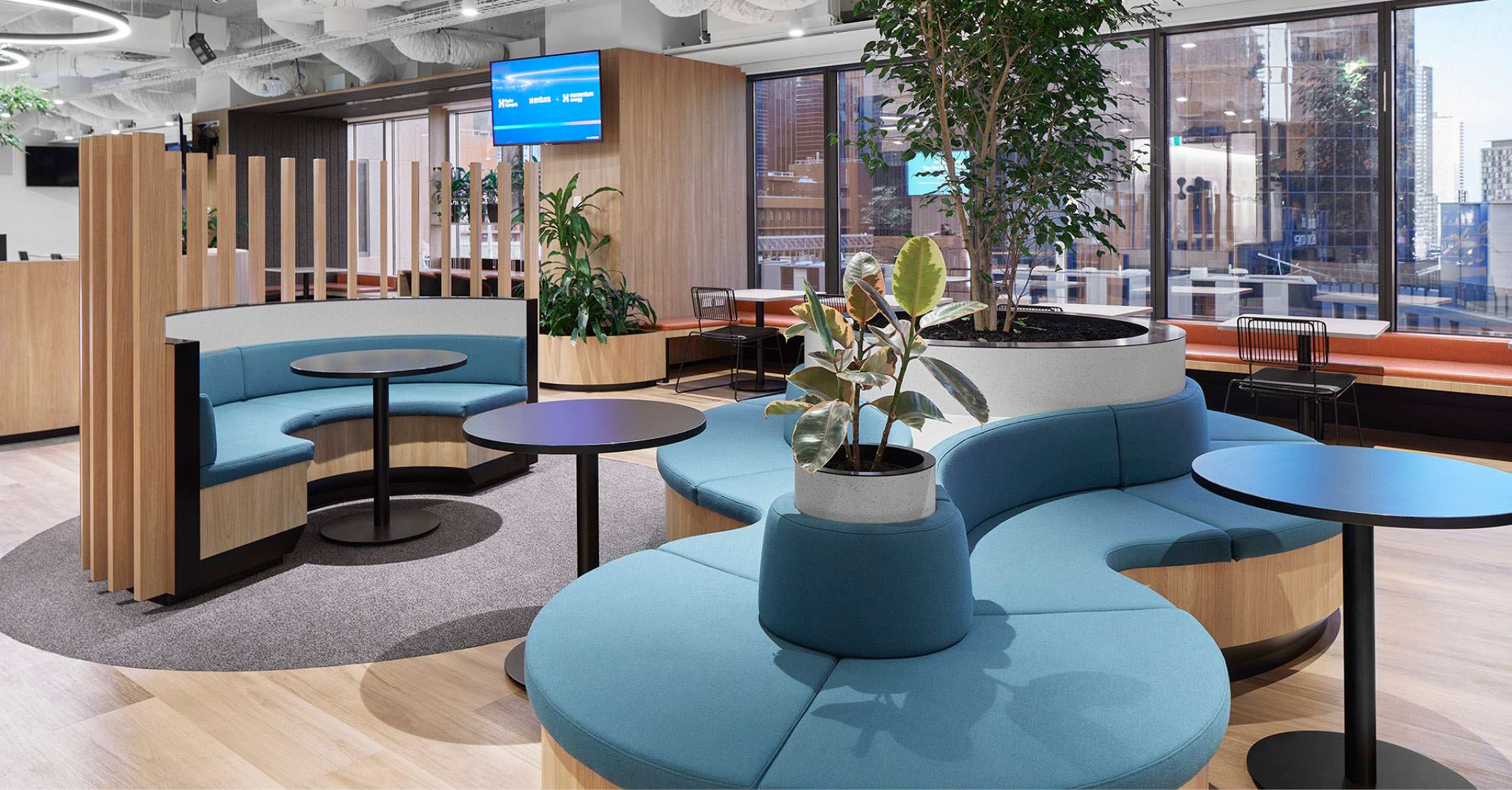 The Workplace Experience
At Amicus, our approach to property and workplace strategy always starts with experience. Critically, the first question that must be asked is what are the activities and experiences that are key to driving your culture, business aspirations and future success?
It is defining these experiences – beyond abstraction such as 'great collaboration' or 'more innovation' – with a granular approach – through stories or moments in time – that they become more valuable.
If you can define success in the behaviour of your people, you will then know where these experiences need to happen. And from here, you can build out the design, technology and rules of engagement that will catalyse these experiences.
The new office may be designed – as many are predicting – as solely a collaboration hub and the 'home' of productivity, all powered by great videoconferencing and collaborative technology. But this may not be the case for every organisation. The TW&T model may be desirable – that is Tuesdays, Wednesdays and Thursdays in the office, Mondays and Fridays from home. A more team-based approach that delivers cohesion and information sharing, while supporting individual productivity and wellbeing.
And what of the remote working experience, is this out of scope and left to individuals to manage? If it is a key part of your property strategy, then creating an effective remote working experience will be essential. While this will involve investment in technology, it may also stretch to ensuring the best possible home office space for everyone, touching on where, when and how people work.
The Property Decision
Whether there is an impending property decision, end of a lease or just a need to ensure the office delivers the right workplace experience - determining the right footprint, workplace model and settings matters. Too much space and you create a ghost town where silence dominates and connections dwindle, too little space and you have excessive noise with distractions making it impossible to get work done.
And if your office is about connecting and collaborating, can people do this amongst a sea of desks or do you need to consider new spaces where teams can huddle, undertake projects, connect remotely or work quietly? By creating the right mix of settings, people are able to move through the environment seamlessly, unhampered by limited meeting rooms or the struggle to find a place to make a private call.
The office of the future won't be defined by legacy or how things have always been done. Rather it will be a place born out of strategic thinking, aligned with each organisation's objectives and one which intentionally brings to life, experiences that create a unique workplace community and great work.
Read More: Pamela Kamenitsas on how COVID-19 has changed design