What HR Leaders need to consider about workplace design to make flexible working a success
In a traditional, pre-pandemic workplace the Facilities Manager and Human Resources rarely crossed paths. Unless furniture needed rearranging, a broken tap to be fixed, or questions around pay and benefits, the FM and HR specialist tended not to enter each other's realm. And it all worked just fine. The policies set by HR around people and flexibility in most workplaces generally didn't impact the design of the office.

Fast forward eighteen months and the social shift to embrace a more flexible approach to where we work has been so far-reaching, many are only now processing how this impacts all aspects of their organisation. While flexible work policies are likely to remain the remit of HR teams, the outcome of new policies which shift the flexibility dial mean that Facilities and Property Managers have been challenged to lift the experience that people have when they do come to the office.

After all, if staff are handed the mantle over the decision of when to come to the office, what happens if the office is not somewhere they particularly want to come?

The space dilemma
If we think of how space is divvied up within offices, it is commonly a mix of individual space (desks or offices), collaborative or meeting space, and social / relaxation spaces. Most of the floor area in a traditional office is dedicated to individual work, often as a sea of desks as far as the eye can see. A smaller proportion of floor area is allowed for meeting rooms and social or relaxation zones.

Even before the pandemic, average global occupancy only sat at 60%. With an increasing number of people working from home or elsewhere, your post-pandemic office may quickly resemble a ghost town. While the CFO will quickly see the wasted real estate spend, the real threat lies in a poor workplace experience which further drives down attendance and undermines both engagement and effectiveness.

Why commute to the office if it feels like no one is there any way?

While it may be tempting to introduce rules to schedule time in the office, it is important to be wary of bringing people in just to fill the space or for unspecified interaction. Rather, we need to drill down into how teams and individuals best work and the sort of spaces that will support those key activities.
What are the activities people want to do when face to face? Where are they most productive? How much time together is ideal? Do they have the right spaces to collaborate and connect well in the office…or will they be plagued by insufficient or ill-equipped meeting and team spaces? How do we support focus work in the office for those who can't work from home?

A more flexible way of working can provide a huge boost to wellbeing arising out of increased autonomy and more personal time. It can improve an individual's sense of productivity and it can catalyse a shift to more purposeful collaboration. However, realising these benefits is more than a policy change.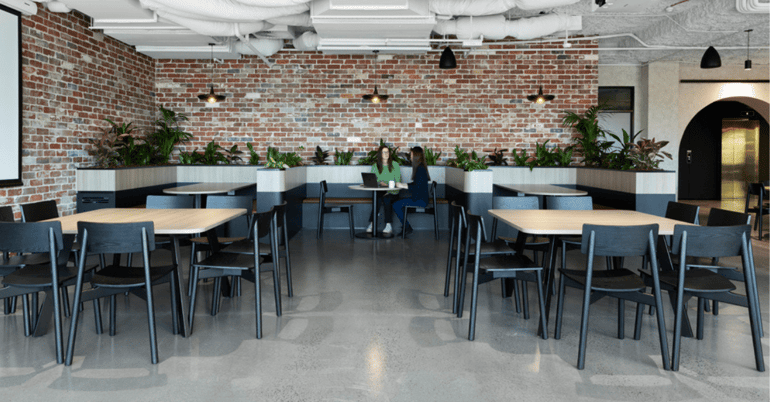 A cross-functional team
A shift to greater flexibility is a team effort – incorporating HR, Facilities, and IT – working together to support flexibility becoming fully enabled through technology, leadership skilling, policy, and a fit-for-purpose work environment. It is about creating a workspace that 'earns the commute' – people want to be there and it provides the spaces and tools to work effectively face to face and virtually, and to connect socially.

For many organisations, this means re-thinking how space is used, and reallocating the division of space from individual desks to a mix of open and enclosed collaboration spaces, and introducing more social and wellbeing areas. It may mean individuals releasing their own territory of desks and offices to make room for other spaces that allow for people to make the most of the time together and bring the principles of flexibility into the physical design.

Space is a powerful tool to signal and change behaviour, that is not always front of mind with HR specialists, who often rely on training, policy, and processes when looking to shift cultural norms. There is a brief window of opportunity as we return to our workplaces to create a better kind of normal both for people and our organisations. Ensuring we bring together the levers of design, technology and policy are essential components for success.

Beyond Discussing Broken Taps
Here are some questions we recommend HR Managers ask the Facilities Manager at their earliest opportunity:

• How can we re-purpose some of the workspace to support face-to-face collaboration activities?
• How do our meeting rooms need to change to support hybrid meetings?
• Can we create quiet zones or rooms to help people focus?
• What are some of the ways we can change our workspace to get people excited about coming back to the office?
Read More: How remote work is reiterating the value of physical workplaces