Embracing Technology in the Workspace
The world we work in has seen unprecedented change in recent years and so has the space where we do that work.
It's no longer limited to a set time and place. Just this week I've worked from our office, the bus, a café by the beach, at home, walking around Sydney Harbour and of course from several client sites.
What draws me to our Sydney office though, despite the hour-long bus commute, is the great team of people, amazing culture and a great looking physical space with modern, simple-to-use technology that just works and enables enhanced communication, collaboration and creativity.
Don't get me wrong, the ability to work from anywhere is critical in this mobile first world. The creation of a vibrant, agile and collaborative office space though is so important to develop an empowered, engaged and inspired workforce. This can only be truly realised with the right digital strategy and adoption of modern workplace technology.
We are experts at designing and building modern digital workspaces. Our mission at Amicus Technology is to unite your modern physical space with the right, simple-to-use digital technology to create amazing human experiences and transform the way your people digitally connect, collaborate and create.
We provide mobility, audio visual and end user workplace technology advisory, design and integration solutions that support your digital workplace transformation. We can also help you to understand your workspace occupancy and utilisation pre or post move. You can optimise that space, improve productivity and reduce real estate costs through our space analytics and optimisation services.
Where are you on your Digital Workplace Transformation Journey?
We would love to know what you think of the Workspace Technology Revolution! By completing our survey, we will enter your name in a draw to win a Logitech MX Vertical Mouse worth close to AUD$200.00! This completion has now closed.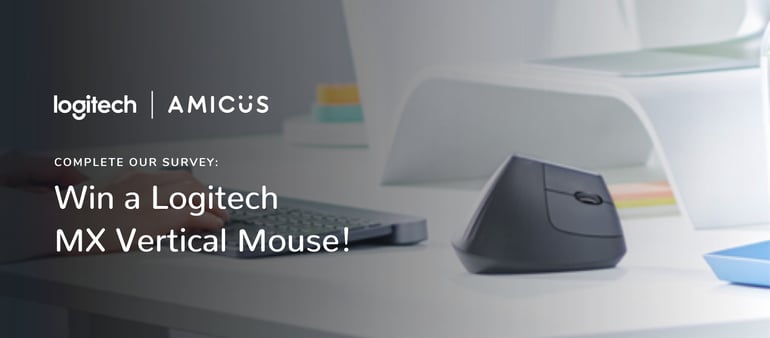 The MX Vertical is an advanced ergonomic mouse that combines science-driven design with the elevated performance of Logitech's MX series. Rise above discomfort with a mouse designed to reduce muscle strain, decrease wrist pressure, and improve posture.