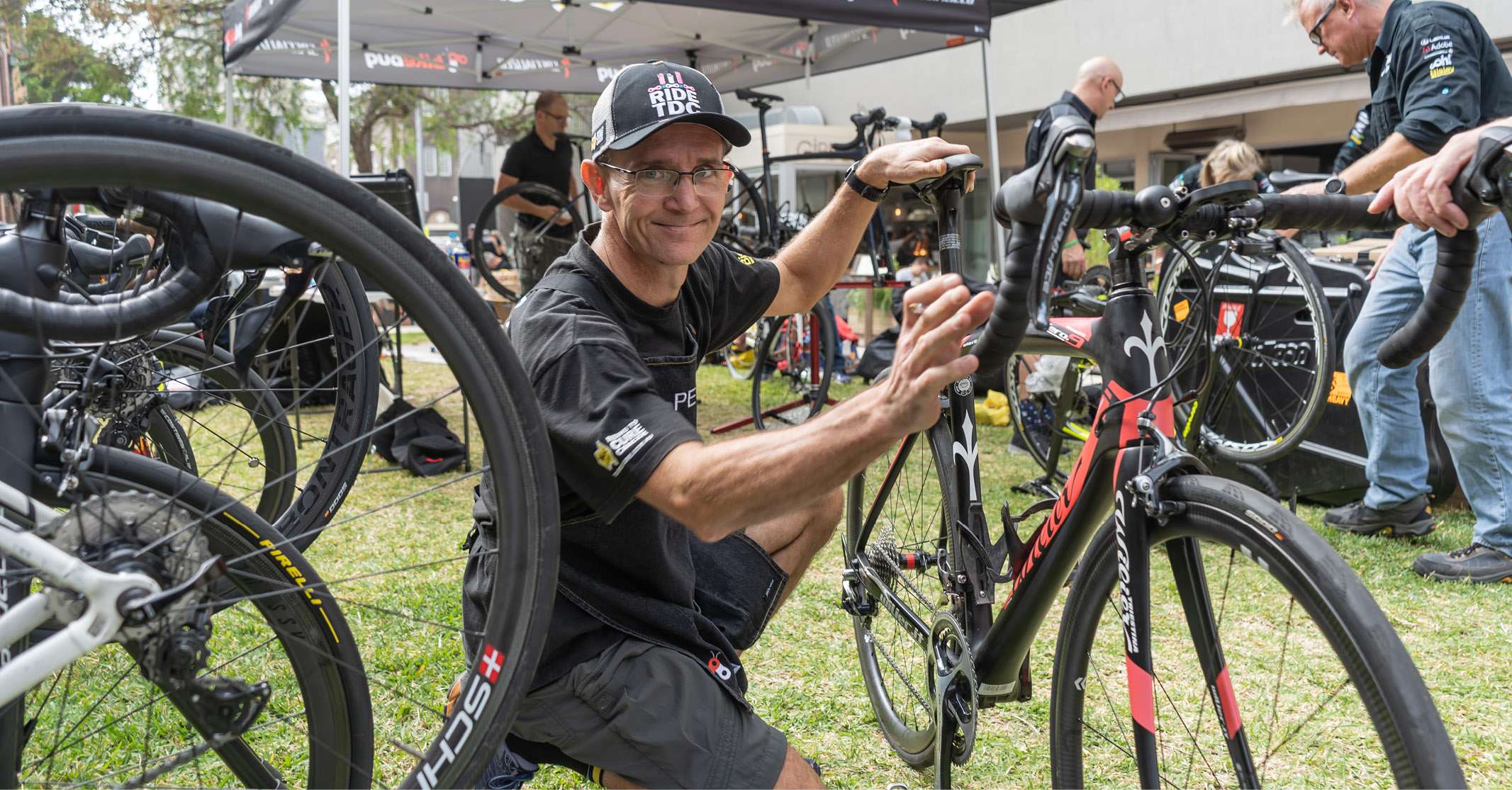 Well it begins. Am I nervous - yes! In the scheme of things tomorrow is straightforward but as with all these things, Day 1 tends to iron out a few creaks in the prep as you bring the team together from all over the country. It was lovely to be joined by my wife Angie for the Day 0 formal dinner in Manly.
A big tip of the hat to Mark Beretta (Channel 7 Sports Reporter) who celebrates his 10th year with Tour de Cure. It was really him that took it to a multimillion-dollar event - the magic of live television. We also heard from Prof John Rasko who engaged us with his passion for dealing with very complex problems. He has been a long-term partner of the Tour de Cure community. With people like him we know the cure for cancer is a matter of time.
Programs using immunotherapy are regular, but money is still the biggest restriction to the long- term solutions.
Day 1 - Friday 3rd May - Sydney to Kiama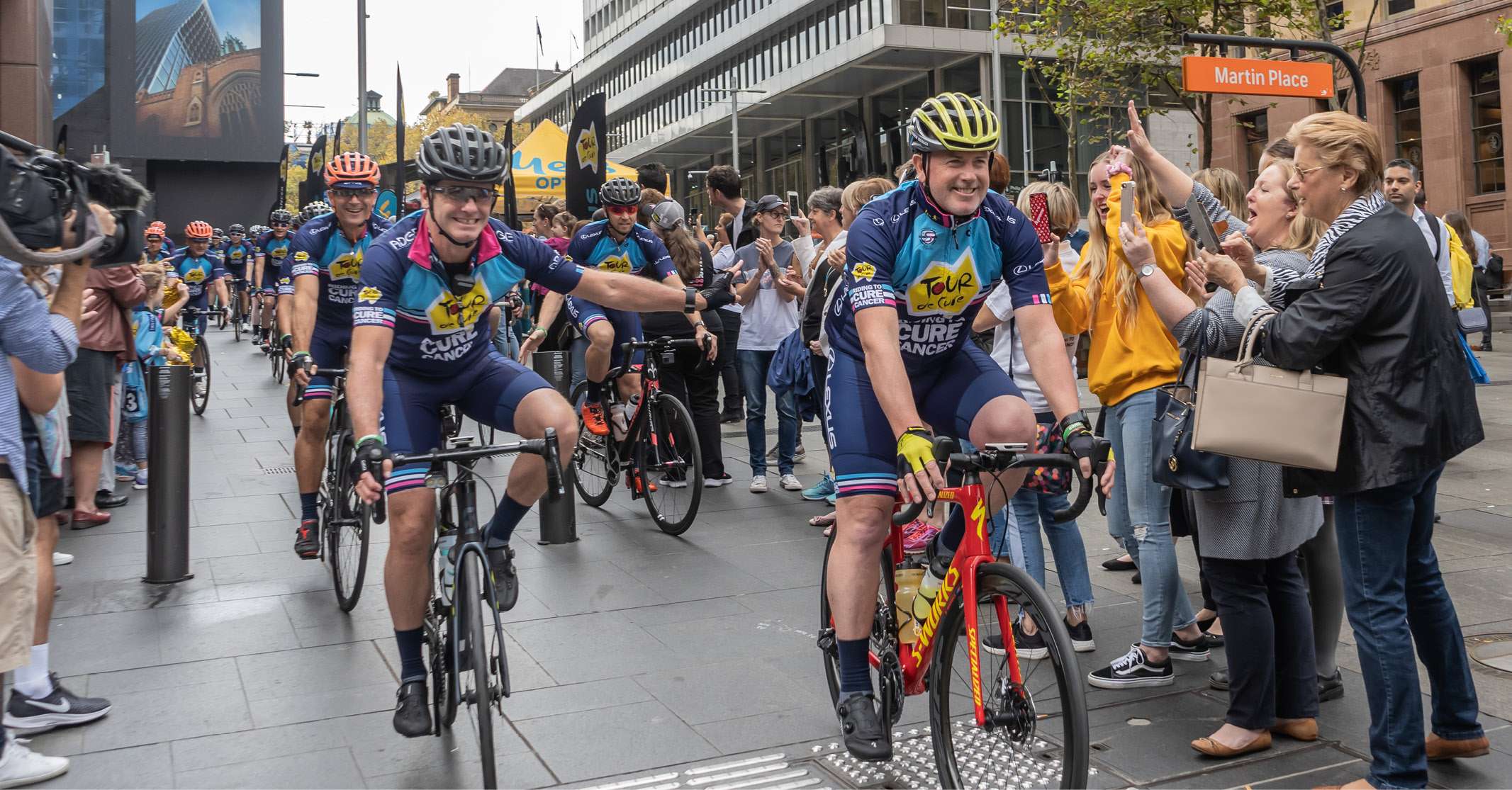 It was a good day on the saddle. Getting out of Sydney was a little tough as we started from Martin Place about 8am (peak hour on a Friday!). We did a lovely school visit at one my teammates kid's school in Randwick and then cycled! Unfortunately, the weather forecast was RIGHT! A bit wet, but all in all a solid day.
Most evenings on tour there is a community dinner. On Day 1 we heard from Paul Mirabelle, the chairperson of Tour de Cure's Research and Support Committee (RSA). This is the team responsible for distributing all the funds that Tour de Cure collects. He shared his personal story about losing his mother to cancer many years ago. Last year we had 192 separate applications for funding and supported over 90 different projects.
We heard from a young researcher, Dr Laura Franshaw from the Children's Cancer Institute studying (DIPG) which grows in the centre of the child's brain - 90% of children die in just 1 year, thankfully it's very rare. Her passion for cancer research came from when her 10 year old cousin was diagnosed with Cancer. As we know she confirmed the biggest challenge in getting research done is funding! She was bright, intelligent, passionate and had such a big heart for the challenge. An inspiring human making a huge difference who thanked us all so much for the work that we are doing. I think I heard she is 31 years old – WOW.
Every evening Tour de Cure present a $10k cheque to a local organisation to support their cancer work. This evening it was for Illawarra Cancer Carers to support cancer patients within the region. They deliver bathroom equipment and wheelchairs to patients to support them. They will use the money to bolster the supplies.
BIG BIG day tomorrow up the hill to Goulburn, so the big feed was very welcome!
| | | | |
| --- | --- | --- | --- |
| Km Today: | Km Total: | Ascent Today: | Ascent Total: |
| 131 km | 131 km | 1287 m | 1286 m |
Day 2 – Saturday 4th May - Kiama to Goulbourn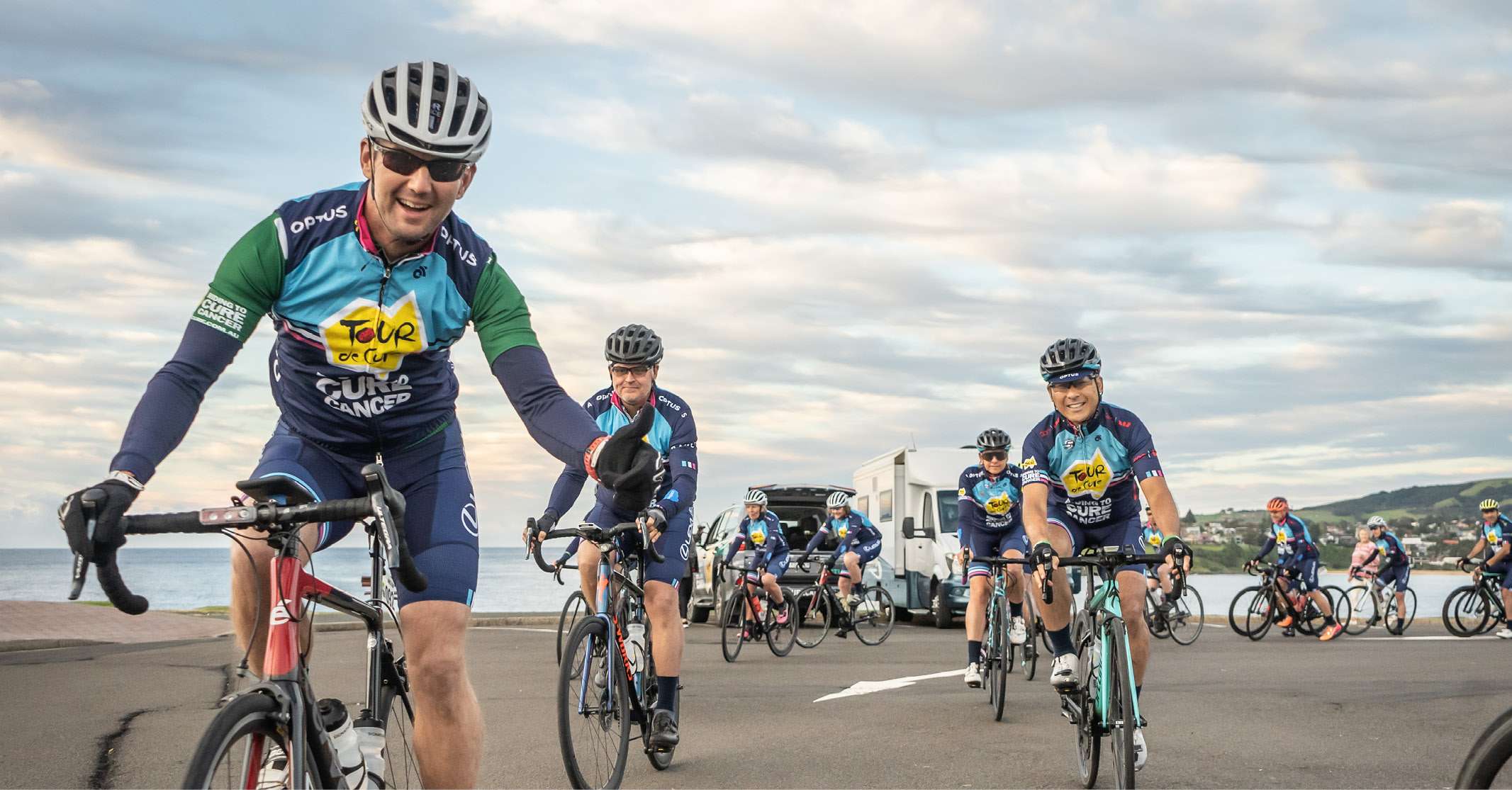 Absolutely epic day on the bike, that started with 4.30am alarm call and 5am bag drop! It was the biggest day ever for me! 2 very serious climbs coming out of Kangaroo Valley and getting up to the Southern Highlands. We had lunch at Bundanoon by then we had covered 98 kms with 1700 m climbing. Ouch!!! Unfortunately, we didn't get all the way to Goulburn because it got dark and we aren't allowed to cycle then – missed it by 6 kms, only 2 of the 6 pelotons made it in. Essentially 8 hours cycling and after waking up at 4.30am!
We stayed at the NSW Police Academy – pretty cool actually, and we all got our own rooms.
We had a police officer Brian Yates (nickname Yoda on May the 4th today for the Star Wars fans) talk. He recently lost his little sister through cancer and linked him into Tour de Cure. He shared her story and spoke about the support she got from the Tour de Cure team. IMPORTANT NOTE - He urged everyone to get regular checks, and fully endorsed the be fit, be healthy, be happy message from Tour de Cure.
We also heard from Tour de Cure Chair, Bruno Maurel. He is riding the first 3 days. He talked about the pride on the group and the importance of the Tour de Cure family. 90% of the work conducted is run by volunteers.
It was the Inaugural Veteran Night for Tour de Cure. They recognised all the 5+ years and 10+ years veterans. Bruno paid tribute to Mark Beretta, who has raised over $500k personally, makes a valuable contribution as a board member, and helped build the brand through Channel 7; doing all this with the utmost humility and commitment to cause. A top guy!
The local community $10k cheque was presented to the Goulburn Can Assist Group who help cancer sufferers in the region.
| | | | |
| --- | --- | --- | --- |
| Km Today: | Km Total: | Ascent Today: | Ascent Total: |
| 173 km | 304 km | 2810 m | 4097 m |
Day 3 – Sunday 5th May Goulburn to Canberra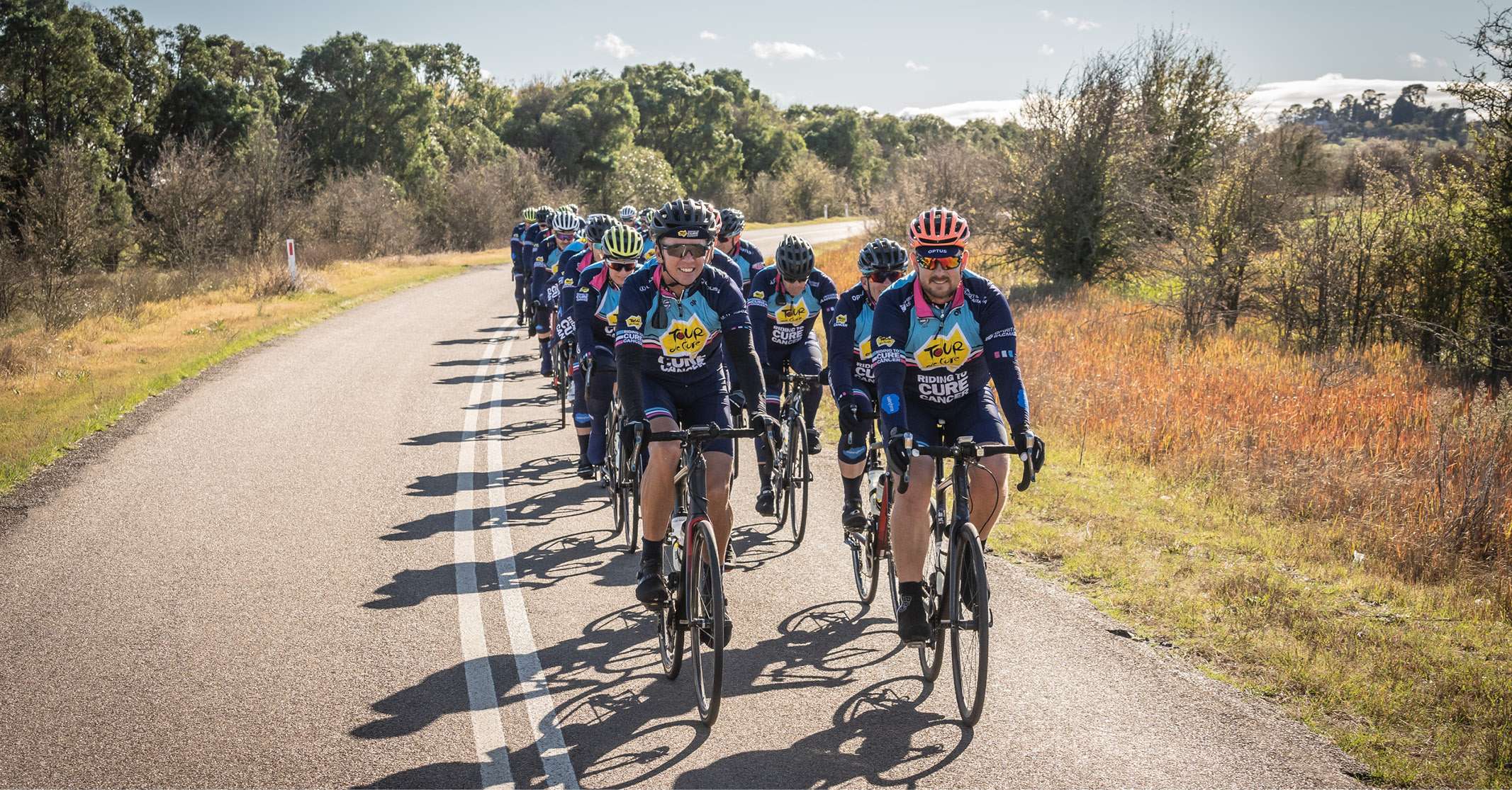 Well it was supposed to be an easy day. We were supporting the weather cross for Channel 7 and didn't get to roll out till 9.45am! fun when bag drop was at 6am!!
The ride in the morning was tough. Savage cross/head wind after the big day yesterday was awful! And then it rained (which it has every day so far). But ultimately we made it to Canberra safely and with some smiles.
The dinner was at the Ainslie Football Club, and hosted by one of the Tour de Cure founders Sam Hollier, and David Lowe. We heard about the common themes of Tour de Cure, saw the original kit from 13 years ago, and the importance of "Simon Sinek's power of why" – it's not about the distance we ride - it's because we want to find a cure for cancer.
Penny Wensly, former governor for Queensland then spoke. She is currently in treatment for cancer, at the ICON centre is Canberra. While the funds raised are fantastic, it funds about one quarter of the research applications each year.
Cancer is estimated to take 50,000 lives in Australia this year.
The community $10k cheque was presented to Unicorn, who was represented by a lady diagnosed in 2010, and given 6 months to live! Unicorn helped her with the battle with a very rare cancer she had. She decided she needed to do something, so she formed a support group in Canberra where she cannot get treatment for her type of cancer.
| | | | |
| --- | --- | --- | --- |
| Km Today: | Km Total: | Ascent Today: | Ascent Total: |
| 130 km | 434 km | 1146 m | 5243 m |
Day 4 - Monday 6th May - Canberra to Jindabyne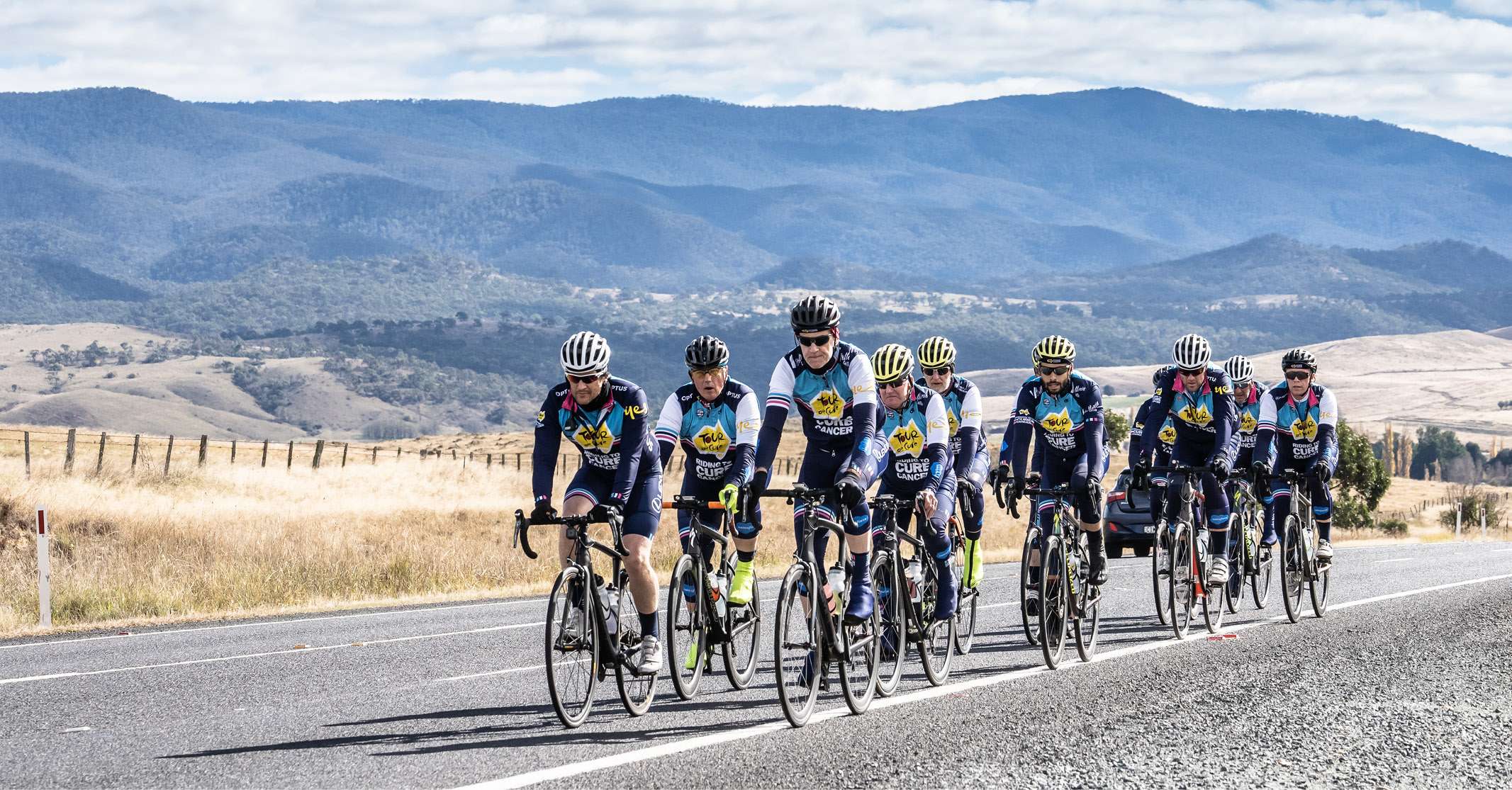 It promised to be a big day and it was... but thankfully No rain. Canberra put on a chilly morning but when the sun came up it was beautiful. The ride was hard, but luck was with us a bit so believe it or not, just under 200kms in the day was a little uneventful. Am I tired – YES! There were no official proceeding this evening, so I managed to sneak in a massage, have a good feed, a couple of cheeky whiskeys and a good nights sleep!
| | | | |
| --- | --- | --- | --- |
| Km Today: | Km Total: | Ascent Today: | Ascent Total: |
| 187 km | 621 km | 2181 m | 7424 m |
Day 5 - Tuesday 7th May - Jindabyne to Corryong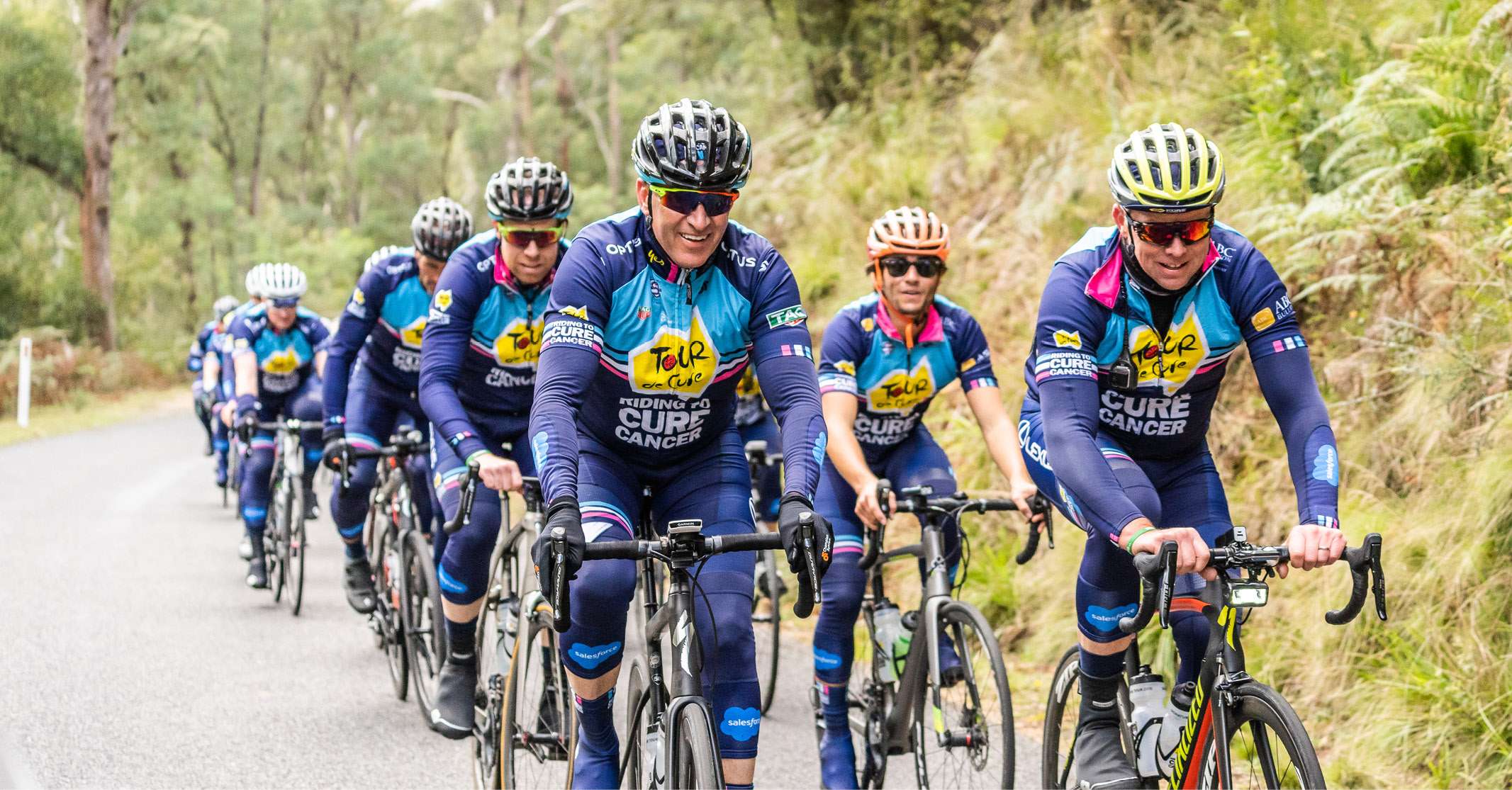 A BIG DAY, BUT MY BEST DAY!
Not so much the length but the height 2896m climbing. The views were spectacular as we left Jindy at sub zero in the mist, clear skies at Thredbo, and breathtaking scenes at Dead Horse Gap. We then enjoyed the downhill ride to "Man from Snowy River Country".
In the evening, we heard from one of the riders who has had many family connections with Cancer. She has struggled considerably with mental health issues and connected with Tour de Cure as she reconnected with purpose in life. It is such a powerful support family Tour de Cure has created.
We then had the pleasure to hear from Jake Bailey, who is doing the full tour this year. He is a 21 year old cancer survivor, who did an amazing end of year speech as head boy in a school in New Zealand after he had been given a death sentence from Cancer (google it - my god!). There was an interview with Tour de France legend, Jens Voigt, who is doing his 5th Signature tour.
Jens describes his reasons for riding and immediately cried describing an experience he had. Jake then described his experience riding this years tour - he acknowledged that Cancer has made him stronger. Jens described how he connected with Tour de Cure. Jens said apart from his 6 kids, his proudest moment was the 2005 Pyrenees Tour de France stage and he helped his mate win the stage - he could have won himself but was able to help his friend win. Another top lad.
Top tips from Jens to get through the next 4 days: it's always possible to make it, use the support ask for help. Jake talked about his why: he talked about his close mate Kane who had the same type of rare cancer as Jake - they grew up together in Christchurch. Kane unfortunately relapsed. While Kane has started his treatment again, it is not good and expected to pass away any day now.
Jake is an inspiration but has not only overcome this terrible disease he has watched his friends die - that is his why. No dry eyes.
The community $10k was presented to Corryong Health Authority to help fund the palliative care room upgrade.
It was an amazing night… very humbling.
| | | | |
| --- | --- | --- | --- |
| Km Today: | Km Total: | Ascent Today: | Ascent Total: |
| 139 km | 760 km | 2896 m | 10320 m |
Day 6 - Wednesday 8th May - Curryong to Beechworth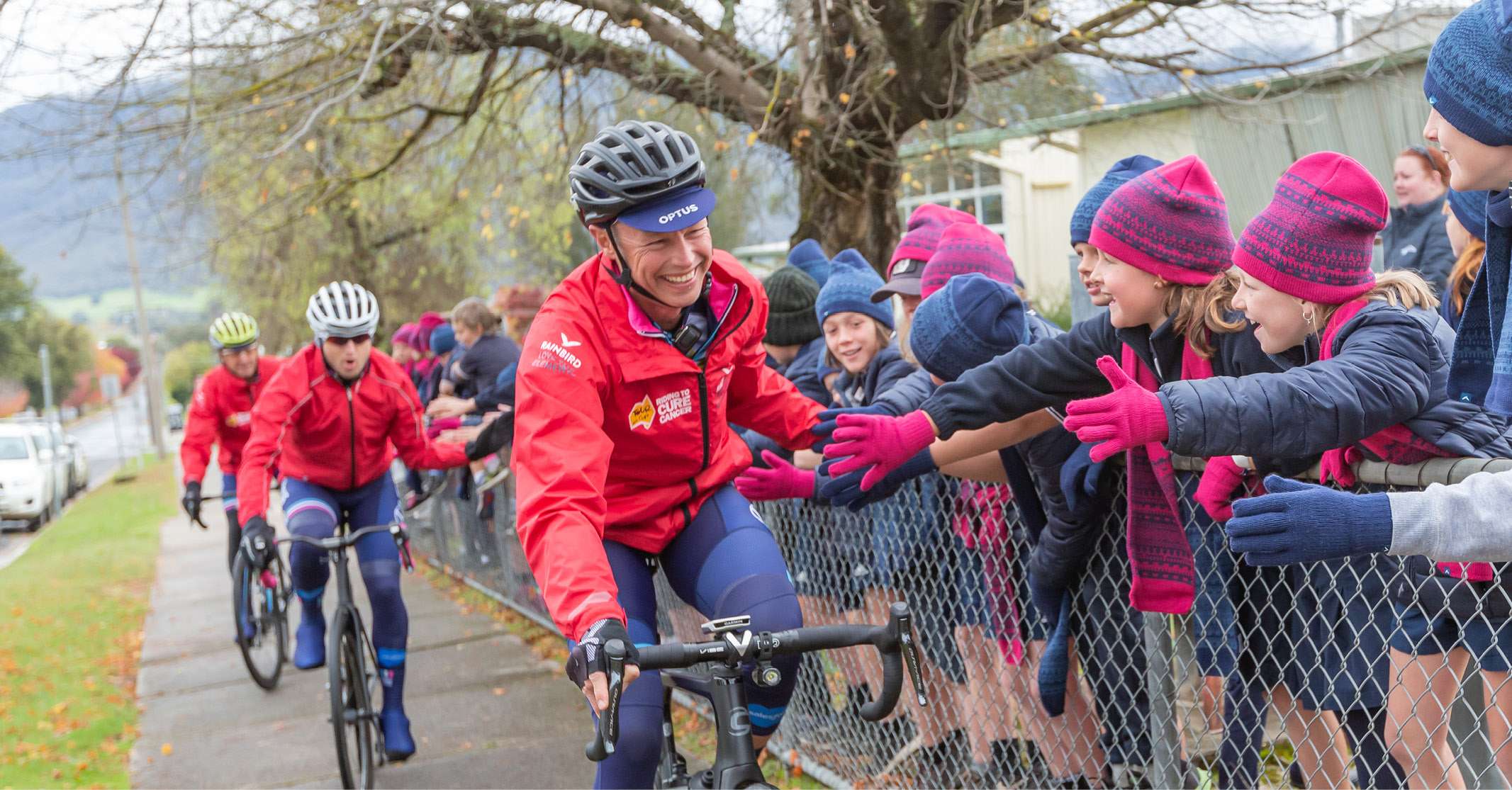 Wow!!! this thing goes fast! (that's the time not my riding speed!!!)
It was a solid ride again today with beautiful rolling farmland. Shame about the rain that keeps on falling! Just over 150kms and, yes – you guessed it – lots of climbing. It was cold and wet – now 3 consecutive days of +2000m climbing, and while the knees are feeling it, overall pleased with the way the body is holding up.
After starting the day before the sun was up, we rode into famous Beechworth (home of the jail Ned Kelly and his family were held in).
This evening dinner was a relaxed event, suitably called "family night". We enjoyed a few drinks and ate what seemed like kilos of pizza. We heard from a rider who has many friends lost from cancer and actually had her entire family on tour, husband and 2 kids (in the support crew). She talked about the importance of family and you could absolutely see her pride.
We then heard from another rider and his 6 year old daughter. He has a rare condition that makes him prone to growing tumours. He has had 4 removed (several in the brain) and still lives with then. They are not malignant but may become that way. He has suffered terribly. It is also hereditary so he has passed it to his daughter, who will live with it unless a cure is found. She has already had a tumour removed from her eye. ARGH!!! So very sad but also encouraging, his whole family are from around this area and you could see the support and strength in their eyes. Again, family.
Lastly, Tour de Cure donated $10k to the Braveheart Foundation, which strives to help people with cancer in their area.
On "Family night", a massive shout out to my family (Angie, Sam and Oli) for all their love and support. Thank you team Kemp!
| | | | |
| --- | --- | --- | --- |
| Km Today: | Km Total: | Ascent Today: | Ascent Total: |
| 154 km | 914 km | 2100 m | 12420 m |
Day 7- Thursday 9th May Beechworth to Shepparton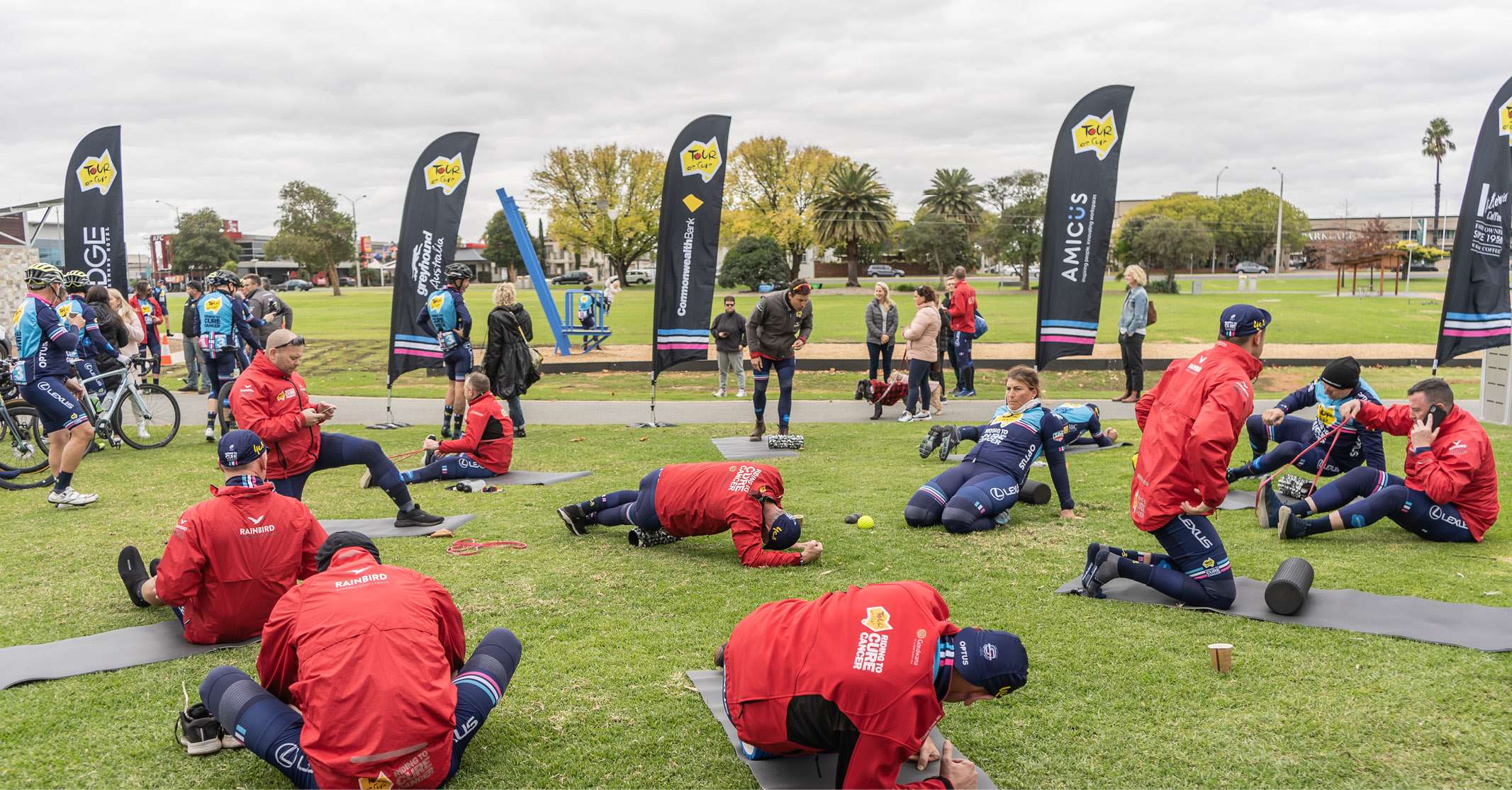 They called this 150km day a recovery day!! What planet are they from!!! It was a pretty good day though. We covered the territory at around 30kms an hour with reasonably favourable conditions.
It was reasonably dry as we rode into Shepparton and looked forward to meeting the 2 day stage riders meeting us for the final assault into Geelong. We had the opportunity to welcome them to the Tour de Cure family at the community dinner.
We heard from a local cancer survivor who is on her third diagnosis of Breast cancer. She signed up and just completed the Busselton iron man! Wow! I am impressed. She was diagnosed when her twins were born. She was re-diagnosed 4 years later and then again 10 years later. She has subsequently started a support group for young women to help them dealing with getting back into life after undergoing treatment. She has signed up for a big ride with canteen next year and thinks she might join a Tour de Cure ride soon. Such a positive and amazing person!
We then heard from Tony (plugger) Lockett (famous AFL player) and Shania Leighton (Ex Aussie netball player and Collingwood WAFL). Both very entertaining in different ways. They talked about how they deal with disappointment, how they deal with pressure and stress and what makes them tick.
The community donation of $10k went to The Peter Couplos Centre for Cancer. They will use the money for cancer patients undergoing treatment. Host for the evening, James Toblin (JT from Channel 7 weekend weather who is riding his 8th signature tour) acknowledged several of the researchers from the Olivia Newton John Centre that attended the dinner tonight.
Finally, Tour de Cure was pleased to announce they have reached over $50 million dollars raised since they started 13 years ago, plus have exceed $10m for this year! Bloody marvellous.
| | | | |
| --- | --- | --- | --- |
| Km Today: | Km Total: | Ascent Today: | Ascent Total: |
| 152 km | 1066 km | 656 m | 13076 m |
Day 8 – Friday 10th May Shepparton to Daylesford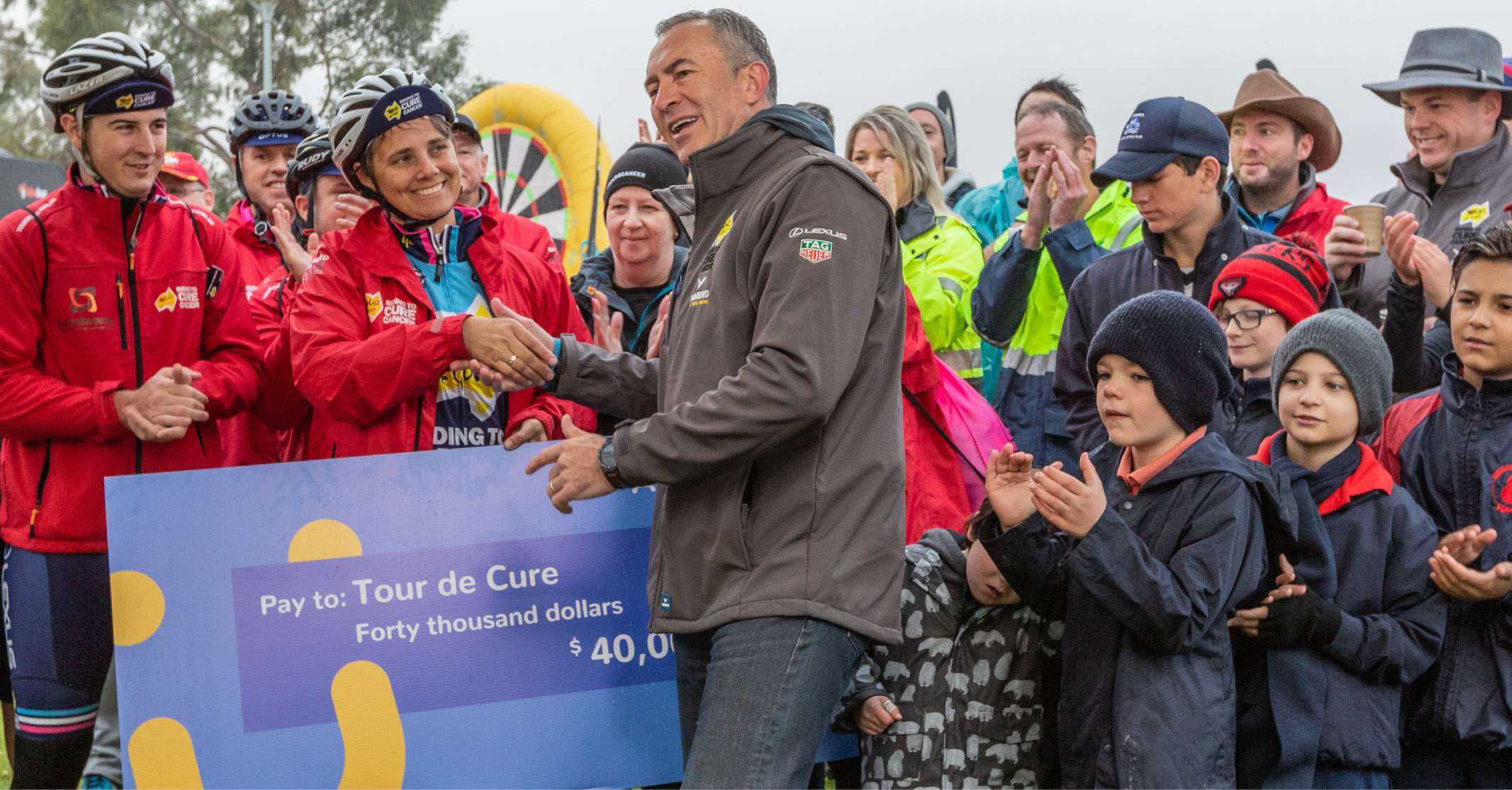 We were worried about rain & did it rain! YES IT DID! So much so that we had to stop riding at lunch. Tough as it would have been nice to finish, but far rather be safe in what were terrible conditions.
We did manage 110km before lunch in less than 3.5hrs!! My peleton was flying along. I must admit I was a little nervous as the rain smashed my face, I could not see through my glasses and relied on the rider less than 1m in front of me!!!
This meant we finished at lunch time, and took advantage of the Greyhound Coaches (what a great sponsor we have on board!) for a dry trip to Daylesford, where 200 riders swarmed the local pub The Daylesford Hotel – not a bad day out all up, and in some way a nice way to close out the tour before everyone greets their families tomorrow in Geelong with understandable anticipation.
We had a lovely dinner in Hepburn springs presenting the $10k community donation to the Otis foundation - based in Bendigo – they have a retreat in Daylesford called Our Leona. They gift retreat accommodation for those families who are dealing with breast cancer - each year they gift 3500 nights across the country. The house here is given away to a local family. They provide time for a family somewhere special where they can connect relax and take time. The donation will help them provide over 130 nights. Another one of the wonderful support groups we experience.
One of the riders then interviewed one of the volunteers (over many years) who was diagnosed with a rare form of breast cancer recently: she talked about her 14 rounds of treatment and how each day on the tour this year she has been ducking back to Bendigo!
She recited a poignant poem of her experience: a gun being held to her head forever and that sometimes she feels safe but sometimes the pressure is so much. Cancer sufferers never forget. Wow! makes you think and makes you want to work harder to raise more money to cure this horrible disease!
Km Today:

Km Total:

Ascent Today:

Ascent Total:

110 km

1176

km
386 m
13462 m
Day 9 – Saturday 11th May Daylesford to Geelong – the finale!!!!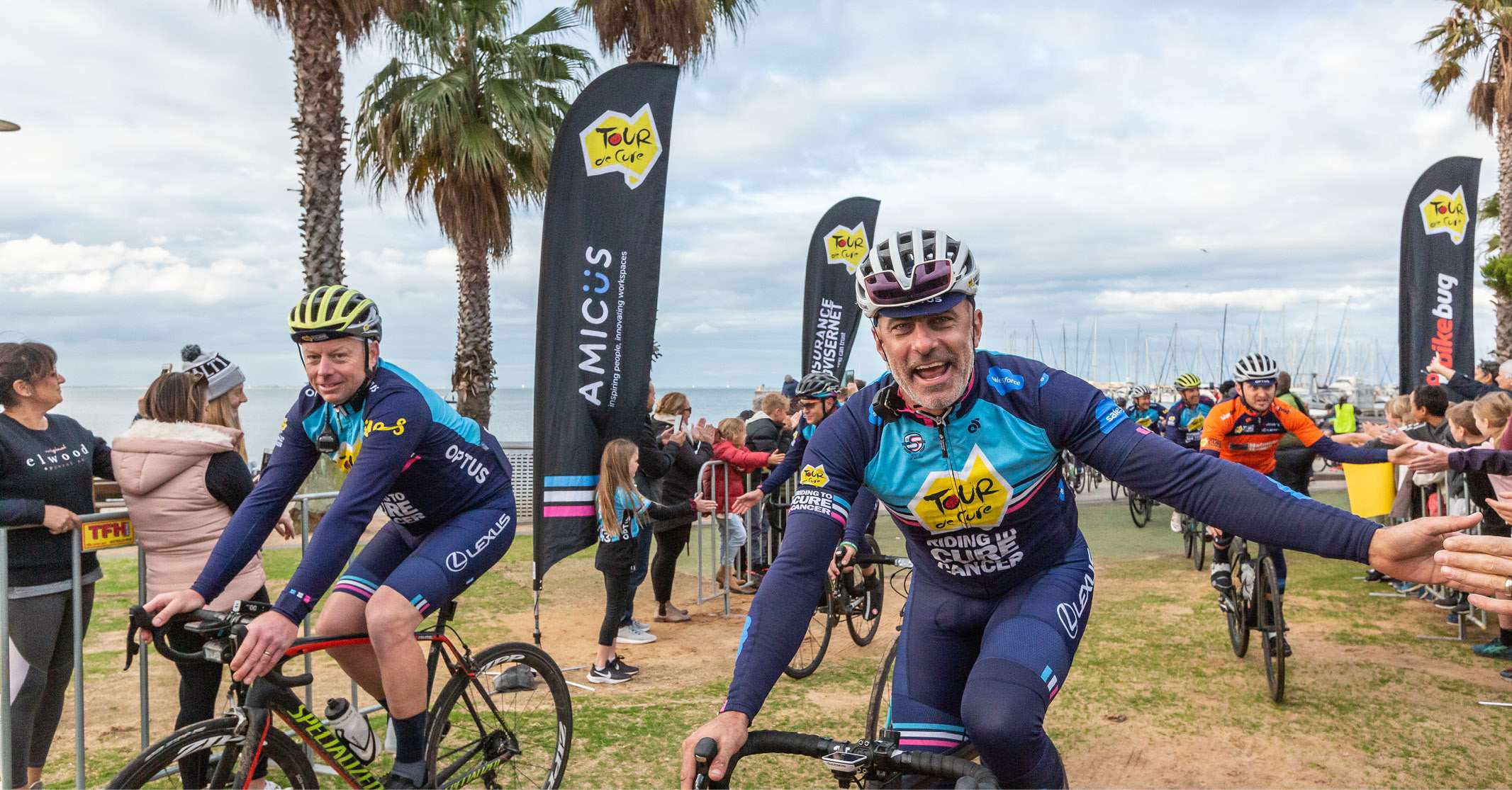 This was meant to be a lovely ride through the stunning Vic highlands, rolling farmland, blue skies and a gentle breeze to push us all the way to Geelong. That is NOT what happened!!
The temperature said it was 4 degrees as we started; it felt like minus 1 and a heavy mist. I thought it would lift by mid-morning, but it took until mid-afternoon, just in time for Mark Beretta's sunshine prediction for our roll into Geelong!
It was a grind of a morning for sure, but after lunch it was pretty much 70km downhill into Geelong. We rode in one massive peloton to our families and supporters into Geelong with faces beaming and pride shining. Maybe a few tears too.
What a tour we had, so much rain, so much cold, so much climbing but the tour bubble helped us along and we have raised millions of dollars toward finding cures for cancer. The tour was definitely billed as a tough one – 8 out of 10, with the conditions we experienced (8 out of 9 days rain) we revised it up to 9.5!
I'd like to say a HUGE thankyou to all of my supporters. Your kinds words, donations and love. Little by little, we are making a difference in this world in ways that others aren't. The TDC family achieved a few milestones on this tour; breaking $10 million for a year and breaking $50 million dollars since the tour began 13 years ago.
Until next time, and there will be a next time as I am already thinking about 2020 and eagerly waiting TDC to confirm the route!
Thank you, James and thank you Rob for your co-authoring work.
Km Today:

Km Total:

Ascent Today:

Ascent Total:

157 km

1333

km
1729 m
15191 m
Total Fundraised: $ 3.016 million